Harry T. Gisborne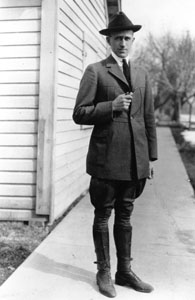 The first clues that Harry Gisborne's career with the Forest Service was anything but ordinary come from the array of photos that illustrate his decades of service. In addition to the standard portraits of him at work or in the latest agency uniform, Gisborne's photo albums are sprinkled with images of contraptions such as the Asman aspiration psychrometer, visibility meter, anemohygrograph, double tripod heliograph, or blinkometer (see Fire Research Instruments for more about these tools). Although they sound like accessories to a sci-fi thriller, these implements were a regular part of Gisborne's lifelong quest to gain information about forest fires, their hazards, prediction, and prevention.
Harry Gisborne was born on September 11, 1893, in Montpelier, Vermont. His family was in the lumber business, and from an early age Harry showed an interest in forestry.
In 1912 he enrolled in the University of Michigan's Forestry School, where he graduated in 1917. He later recalled, "I chose forestry as a profession because I loved the woods and hills and wanted to work in them and with them. Went to Vermont summer school of forestry in 1911 to make sure that I knew what I was getting into. Liked it, but actually gained hardly an inkling of what was to come. Can't remember that anyone ever mentioned research."
After four years with the Forest Service, Gisborne was assigned to the Priest River Experimental Forest in northern Idaho in 1922, and once there he launched his career as a forest fire scientist. The agency considered him the "first true specialist in forest fire research in the Nation." Gisborne proved himself both persistent and innovative, as he designed or modified gadgets to measure fire conditions, rushed to fires to observe their behavior, set a vigorous standard for his colleagues, and frequently published his findings.
In 1947 Gisborne was the first person in the Northern Rockies region to receive the U.S. Department of Agriculture's Superior Service Award. Admiring successors in fire research have dubbed the period from 1922-1949 "the Gisborne Era," and many of his co-workers and protégés went on to distinguished careers in the Forest Service.
Harry Gisborne essentially gave his life to fire and the agency, as he died on the job on November 9, 1949. Determined to personally inspect the site of the recent Mann Gulch fire in Montana, Gisborne walked his frail heart to its final beats. According to the ranger accompanying him that day, Gisborne closed his life with the satisfied comments, "Here's a nice rock to sit on and watch the river. I made it good. My legs might ache a little tomorrow though."
Gisborne never quite made it off that final rock, but in 1951 a plaque with his name on it was placed on the summit of Gisborne Mountain -- named in his honor -- just a few miles north of the Idaho research station where he devoted so many years.
Written by: David Havlick, special projects, Forest History Society
Sources
Hardy, Charles, E. The Gisborne Era of Forest Fire Research. University of Montana Forest and Conservation Experiment Station in cooperation with U. S. Department of Agriculture, Forest Service (Completion Report), 1977.
Hardy, Charles E. The Gisborne Era of Forest Fire Research: Legacy of a Pioneer. U.S. Department of Agriculture, Forest Service, Northern Forest Fire Laboratory, Missoula, Montana, FS-367, 1983.
"Pioneer Fire Research Added to University's Mansfield Library." INTercom. April 15, 1982, Intermountain Forest and Range Experiment Station, Ogden, Utah.