Module Two
If Trees Could Talk Modules
From Forest to Farm and Back Again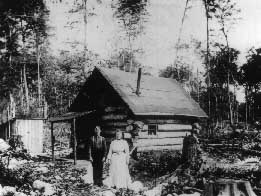 OVERVIEW
From Forest to Farm and Back Again explores the history of land use from colonial settlement to the emergence of modern America at Harvard Forest in Petersham, Massachusetts. Students will examine, interpret, and analyze physical and cultural patterns of forest use and management over a 300-year period.
Image Caption: Wilderness Home 
Lycoming County Historical Society, PA.
OBJECTIVE
The student will understand how the values and institutions of European economic life took root in the colonies.
(Era 2, Colonization and Settlement: Standard 3)
The student will understand the impact of the American Revolution on politics, economy, and society.
(Era 3, Revolution and the New Nation: Standard 2)
The student will understand the impact of territorial expansion between 1801 and 1861 on communities in the east.
(Era 4, Expansion and Reform: Standard 1)

Social Studies

The student will identify and use processes important to reconstructing and reinterpreting the past, such as using a variety of sources, providing, validating, and weighing evidence for claims, checking credibility of sources, and searching for causality.
(Standard II, Time, Continuity & Change)
The student will examine, interpret, and analyze the physical and cultural patterns and their interactions, such as land use, settlement patterns, and ecosystem changes.
(Standard III, People, Places and Environments)
Class Extensions
Organize field trips to two different forests, one managed by industry and one managed by state parks. Compare and contrast the forest management activities and the condition of the forest.
Research the history of a local forest back for 400 years.
Team Teaching Possibilities
Technology: Have students create a PowerPoint presentation describing the changes to the forest ecosystem (clearing forests, farm abandonment, return of second-growth forests) in Petersham, Massachusetts, following the arrival of the Europeans.
English: Using the Essay, the historical record (The History of Petersham), and Worksheet 3 as a guide, ask students to create three short, fictional, first-hand accounts (in the form of journal entries) that describe the physical landscape of Petersham, Massachusetts, in 1700, 1740, and 1850. In addition to describing the changes in the land, students also should speculate about how alterations in the landscape may have affected the daily lives of people in the area between 1700 and 1850.
Math: Since Worksheet 4 incorporates math skills, this exercise could be introduced in a social studies class and completed in a math class. Alternatively, math teachers could build upon this activity by having students analyze and answer questions regarding historical maps that require similar mathematical skills.
Science: Because a major theme of the activity focuses on how the arrival of Europeans affected the various forest ecosystems over time, science teachers could have students study how either plant life or wildlife changed in a local forest (following European colonization) as a result of human interaction with the land between 1700 and 1850.
References
Clawson, Marion. "Forest Depletion and Growth," in Encyclopedia of American Forest and Conservation History. Ed. by Richard C. David. New York: Macmillan, 1983.
Cronon, William. Changes in the Land: Indians, Colonists and the Ecology of New England. New York: Hill and Wang, 1983.
Foster, Charles H. W., ed. Stepping Back to Look Forward: A History of the Massachusetts Forest. Petersham, MA: Harvard Forest, Harvard University, 1998.
Foster, David, Glenn Motzkin, & Benjamin Slater. "Land-Use History as Long-Term Broad-Scale Disturbance: Regional Forest Dynamics in Central New England." Ecosystems 1 (1998): 96-119.
MacCleery, Douglas. American Forests: A History of Resiliency and Recovery. Durham, NC: Forest History Society, 2011. [Order]
Raup, Hugh. "The View From John Sanderson's Farm: A Perspective for the Use of the Land." Forest History 10 (April, 1966): 2-11. [PDF]
Tager, J. & Wilkie, R. A., Historical Atlas of Massachusetts. Amherst, Mass: University of Massachusetts. 1991.
Whitney, P. Worcester County: America's First Frontier. Worcester Mass: Isaiah Thomas, 1793.
Resources
Forest History Society Bibliographic resources on forestry, conservation and environmental history. Ordering American Forests: A History of Resiliency and Recovery, The Greatest Good film.
Harvard Forest A base for research and education in forest biology, silviculture and forest management, soil, forest ecology, and economics.