If Trees Could Talk Modules
From Forest to Farm and Back Again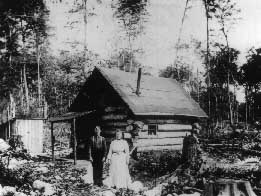 OVERVIEW
From Forest to Farm and Back Again explores the history of land use from colonial settlement to the emergence of modern America at Harvard Forest in Petersham, Massachusetts. Students will examine, interpret, and analyze physical and cultural patterns of forest use and management over a 300-year period.
Image Caption: Wilderness Home 
Lycoming County Historical Society, PA.
OBJECTIVE
The student will understand how the values and institutions of European economic life took root in the colonies.
(Era 2, Colonization and Settlement: Standard 3)
The student will understand the impact of the American Revolution on politics, economy, and society.
(Era 3, Revolution and the New Nation: Standard 2)
The student will understand the impact of territorial expansion between 1801 and 1861 on communities in the east.
(Era 4, Expansion and Reform: Standard 1)

Social Studies

The student will identify and use processes important to reconstructing and reinterpreting the past, such as using a variety of sources, providing, validating, and weighing evidence for claims, checking credibility of sources, and searching for causality.
(Standard II, Time, Continuity & Change)
The student will examine, interpret, and analyze the physical and cultural patterns and their interactions, such as land use, settlement patterns, and ecosystem changes.
(Standard III, People, Places and Environments)