If Trees Could Talk Modules
From Arbor Day to Earth Day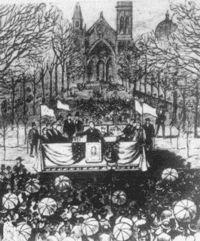 OVERVIEW
From Arbor Day to Earth Day has students analyze the influence of diverse forms of public opinion on the development of environmental public policy and decision making from the early industrial age through the postwar era. Students will understand the effects of rapid industrialization on the environment and the emergence of the conservation movement and then compare it to the modern environmental movement.
Image Caption: 1882 Celebration of Arbor Day
Garfield Place
Frank Leslie's Illustrated Newspaper.
OBJECTIVE
The student will understand the effects of rapid industrialization on the environment and the emergence of the first conservation movement.
(Era 6, The Development of the Industrial U.S.: Standard 1D)
The student will compare the environmental movement with the conservation movement.
(Era 9, Postwar United States: Standard 3b)
The student will utilize visual and mathematical data presented in charts. (Historical Comprehension, Standard 2)

The student will relate personal changes to social, cultural, and historical contexts. (Standard IV, Individual Development & Identity)