Module Three
If Trees Could Talk Modules
Fueling the Fires of Industrialization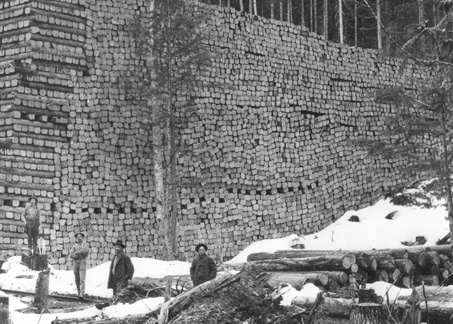 OVERVIEW
Fueling the Fires has students examine the role wood played in the American Industrial Revolution. By calculating how much wood was consumed by U.S. railroads before and after the invention of wood preservatives, in addition to reading about the use of barbed wire for fencing, students will observe the connection between technology and forest conservation. Students also will learn how research and development have contributed to the diverse use of forest products in everyday household items.
Image Caption: Railroads consumed vast quantities of wood. 
Crossties were hued and sawn by the millions. 
British Columbia Forest Service Photo.
OBJECTIVE
The student understands the connections among industrialization, the advent of the modern corporation and material well-being.
(Era 6: The Development of Industrial United States, Standard 1A)
The student understands the effects of rapid industrialization on the environment.
(Era 6: The Development of Industrial United States, Standard 1D)

The student will analyze the role that supply and demand, prices, incentives, and profits play in determining what is produced and distributed in a competitive market system.
(Standard 7b: Production, Distribution & Consumption)
The student will show through specific example how science and technology have changed people's perceptions of the social and natural world, such as in their relationship to the lands, animal life, family life, and economic needs, wants and security.
(Standard 8b: Science, Technology, & Society)
Download and print Module 3: one Teacher pages copy & one copy per student of the Student pages PDFs using Adobe Acrobat.
Day 4 activity: Pre-class preparation: Click on "Object Cards." Place the items listed on the cards in five separate numbered containers or boxes. For example, box one should contain a packet of instant hot chocolate, a small package of tissues, and a container of glue. Make sure that the boxes or containers have lids so that students cannot see the objects until they are instructed to do so. Cut out the five "object cards," but do not place them in the corresponding boxes at this time.
Class Extensions
Have students research the history of a railroad company in their local area or state. Ask students to focus on how this company used wood in its operations during the nineteenth and early twentieth centuries. As a follow-up, invite an employee from this company (if still in existence), or another railroad company, to speak to the class about the role wood plays in their modern operations.
Students learned in this activity how technology helped preserve American forests through inventions that curbed wasteful use of wood. In order to test students' understanding of this phenomenon, stage a competition in which students are asked to design an invention that would help preserve trees or improve a modern practice involving the use of a forest product.
Have students research the development and location of railroad lines in their state, including the major starting and ending points, the dates on which construction both began and ended, and the reasons behind the choice of the locations for the lines. Additionally, ask students to identify the products transported by the railroads in their state during the late nineteenth and early twentieth century. Finally, have students make a list of the products no longer carried by railroads and ask them to speculate as to why these products are not transported today.
Team Teaching Possibilities
Technology: Instead of having students compose graphs for Worksheet 4 on the sheet provided, ask students to create their graphs in Microsoft Excel or similar software.
English: Worksheet 3 asks students to create a 5-minute television broadcast about the role wood played in the American Industrial Revolution. As an additional component of this exercise, have students write a script for the broadcast outlining the important topics and issues.
Math: Since Worksheet 4 incorporates math skills, this exercise could be introduced in a social studies class and completed in a math class. Alternatively, math teachers could build on the exercise by having students compose more complex graphs and answer questions that test understanding of the information conveyed by the graphs.
Science: Using the essay and Worksheet 5 as a guide, ask students to compose a list of wood derivatives (cellulose and resin, for example). Assign students one or two derivatives and ask them to research its physical and/or chemical composition and explain the process of how this material is used in the production of everyday household objects.
References
Bramwell, Martyn, ed. The International Book of Wood. New York: Crescent Books, 1984.
Bumgarner, Matthew C. Legacy of the Carolina & North-Western Railway. Johnson City, Tennessee: Overmountain Press, 1996.
Christian, Bill. "The Story of the Railroad Tie." Forest World (Summer 1990): 10-13.
MacCleery, Douglas. American Forests: A History of Resiliency and Recovery. Durham, NC: Forest History Society, 2011. [Order]
McCallum, Henry D. and Frances T. The Wire that Fenced the West. Norman: Oklahoma University Press, 1965.
Olson, Sherry. The Depletion Myth: A History of Railroad Use of Timber. Cambridge, Massachusetts: Harvard University Press, 1971.
Williams, Michael. Americans and Their Forests: A Historical Geography. New York: Cambridge University Press, 1989.