Alvin J. Huss Endowment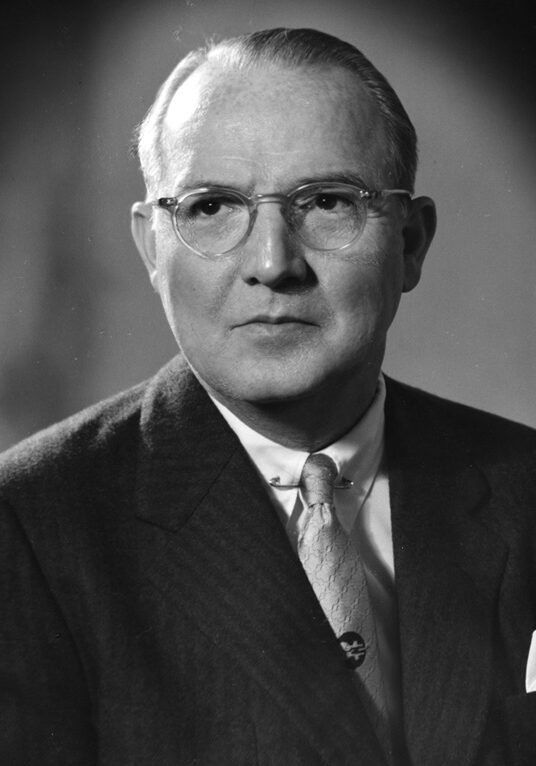 Alvin J. Huss (1904-1998), longtime friend and benefactor of the Forest History Society, contributed to many Society programs and projects over the years. It was mainly due to his efforts that the Society was able to double the size of its building when FHS headquarters moved from California to Durham, North Carolina, in 1984.
With a background in the forest products industry, Mr. Huss wanted to ensure the preservation of important records and photographs that documented the industry's history. He also realized that it was equally important to improve access to those records for researchers, so he provided financial support for FHS archival collecting and management efforts. The Society's archives is named in his honor.Working with his son John and daughter-in-law Ruth, the Society established the Alvin J. Huss Endowment for Digitization and Outreach of the FHS archives. The Endowment has been augmented with funds from a Challenge Grant from the National Endowment for the Humanities.
In the year 2000 the Huss Foundation of St. Paul, Minnesota, made an endowment pledge to FHS of $1 million in honor of Alvin Huss to further the digitization and outreach of the Society's Alvin J. Huss Archives. The digitization program supports the creation of digital versions of selected collections from our archives that will be exhibited through our web site. The initial phase of the project has resulted in the digitization and cataloging of thousands of images from the Society's collection of over 30,000 historic photographs. Digitization of collections benefits our patrons by increasing their level of access to our materials, while allowing our staff to provide a higher level of efficient reference assistance.
To contribute to the Alvin J. Huss Endowment, make your check payable to the Forest History Society and mail to:
Alvin J. Huss Endowment
Forest History Society
2925 Academy Rd.
Durham, NC 27705
Please contact Laura Hayden, FHS Development Associate, for more information.
Telephone: (919) 682-9319   Fax: (919) 682-2349