Module Eight
If Trees Could Talk Modules
Living in a Global Forest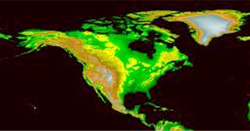 OVERVIEW
Living in a Global Forest has students compare the ecological footprint of a home constructed in 1950 with one constructed in 2000. Students will learn where our wood comes from now and will analyze global efforts to manage the world's forests.
OBJECTIVE
The student understands economic patterns since 1968.
(Era 10, Contemporary United States; Standard 2)

The student will describe and explain the relationships between national sovereignty and global interests in matters of natural resources, trade, use of technology, and welfare of people.
(Standard 9, Global Connections)
The student will propose, compare, and evaluate alternative uses of land and resources in communities, regions, nations, and the world.
(Standard 3, People, Places, Environment)
Class Extensions
Conduct a global summit in which students from area schools meet to discuss problems and potential solutions concerning the forests of the world. Each school should represent a different country so that when students come together for the summit, they will gain a global perspective.
Arrange a field trip to a forest products company or invite a guest speaker from a local forest products company to talk with your students about topics such as the importing and exporting of wood, the various uses for forest products, and timber harvesting.
Have students measure their ecological footprint using a site such as Ecological Footprint Calculator. Ask students to share their results with the class and discuss the potential implications of their findings on the global forest.
Team Teaching Possibilities
Technology: Ask students to create a graph or chart (in Microsoft Excel or a similar program) using the information and statistics from "Homes for Sale" to compare homes built during 1950 with those constructed during 2000.
English: Have students write a short story about the future of the global forest.
Math: Using the information contained in the essay, the figures from "Cartoon #3" (Human Population Growth Chart), and outside sources if desirable, have students make future world population projections.
Science: Ask students to design a scientific study concerning the impact of overpopulation and high rates of consumption on the global forest. Additionally, have students analyze and describe how a sustainable management program could specifically benefit forests around the world.
References
Brown, Lester R. State of the World 1999. New York: W.W. Norton & Company, Inc., 1999.
Floyd, Donald W. Forest Sustainability: The History, the Challenge, the Promise. Durham, NC: Forest History Society, 2002.
MacCleery, Douglas. American Forests: A History of Resiliency and Recovery. Durham , NC : Forest History Society, 2011. [Order]
Menzel, Peter. Material World. San Francisco, CA: Sierra Club Books, 1994.