George Bishop Sudworth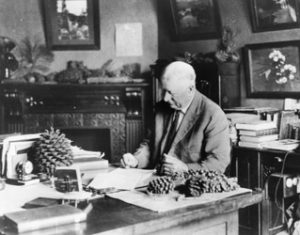 George Sudworth began his forestry work in 1886 when he entered the Division of Forestry. At the time of his death in 1927, he was Chief Dendrologist of the Forest Service, dean of the forestry profession in the United States, and a distinguished authority on American Trees. For the last 15 years of his life he was an active member of the Federal Horticultural Board.
Mr. Sudworth penned numerous publications on dendrology and other phases of forestry. A Check List of the Forest Trees of the United States became a classic authority on the nomenclature and range of American trees. His other works included: Importrant Trees of the Pacific Slope; Cypress and Juniper Trees of the Rocky Mountain Region; Spruce and Balsam Fir Trees of the Rocky Mountain Region; and Pine Trees of the Rocky Mountain Region.
George B. Sudworth discovered and named a large number of new species and varieties of American trees. His dendrological work was based on wide exploration and an intimate knowledge of the forest regions, many of which he travelled on foot.
A founder of the Society of American Foresters, Sudworth was also a member of the Washington Academy of Sciences, the Biological and Botanical Societies of Washington, and an honorary member of the Finnish forestry association, Finska Forstsamfundet.