Carlile P. 'Cap' Winslow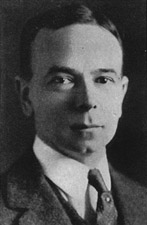 To most folks faced with a shortage of wood, the obvious responses are to grow and cut more timber, or to turn to alternative materials such as metals, ceramics, or synthetics. When faced with this same challenge in 1908 as a new employee of the U.S. Forest Service, Cap Winslow turned, instead, to wood preservation as a means to decrease the pressure on wood supplies and commercial forests.
Born in August of 1884 and graduated from Yale's Sheffield Scientific School in 1905, Carlile "Cap" Winslow's first assignment for the Forest Service was "investigative work in the design, installation and operation of experimental wood preservation plants." Specifically, Winslow worked to find better ways to preserve poles used for transmission lines.
In 1910, Cap Winslow joined the inaugural staff of the Forest Products Laboratory when it opened in Madison, Wisconsin. By April 1917, Winslow had been named director - a post he held for nearly thirty years before transferring to his native Washington, D.C., in February 1946. During more than three decades of service at the Forest Products lab, Winslow helped guide the facility to become the largest organization in the world dedicated to research on the uses of wood and its related products. When Winslow assumed the directorship in 1917, the lab's roster of employees totaled eighty scientists and administrators; at the height of World War II during Winslow's final years at the lab, he oversaw the efforts of more than 700 lab employees.
Winslow became director immediately following the entry of the U.S. into World War I, and he was able to successfully direct expansion of the Laboratory's work to meet the demands of the military.  During both World Wars I and II, the lab worked closely with the War and Navy departments to supply, transport, or refine wood products for airplanes, tanks, artillery, ammunition, and food. Other materials developed by the lab included alcohol, chemical by-products from sawdust and wood waste, and methods for wood lamination, fireproofing, and finishing.
Winslow authored a number of Forest Service publications, as well as numerous authoritative papers appearing in various technical journals.  In his final years for the Forest Service, Cap Winslow continued to work as a consultant on wood products advising the U.S. Department of Agriculture in Washington, D.C.  Winslow was a fellow of the Society of American Foresters and an associate member of the Society of Civil Engineers.
Written by: David G. Havlick, Special Projects, Forest History Society
Sources
"'Cap' Winslow Gives Up Directorship of U.S. Forest Products Laboratory," U.S. Department of Agriculture, Forest Service press release, Washington, D.C., February 26, 1946.