Famous Fires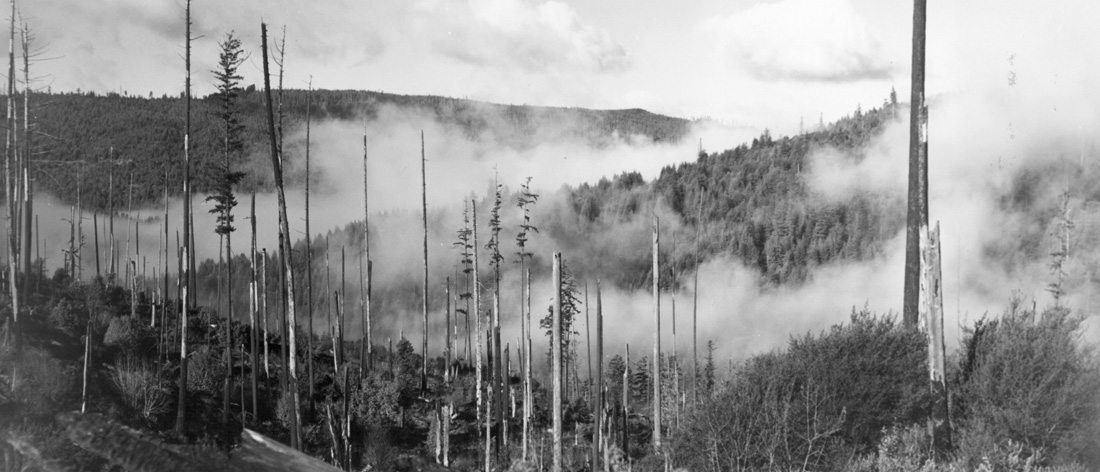 From its earliest days, the Forest Service has been forced to deal with devastating forest fires. Several of these fires have had a direct impact on national forest fire policy. In 1910, the agency faced a calamitous series of forest fires in Idaho, Montana, and Washington. These incredibly damaging fires, sometimes referred to as the "Big Blowup" of 1910, pushed issues related to forest fires into the public discourse, and led to new USFS fire prevention and suppression policies.
The Mann Gulch fire of 1949 on the Helena National Forest in Montana also greatly influenced fire policy within the Forest Service. This devastating fire claimed the lives of thirteen smokejumpers, and led to the establishment of two new USFS facilities, one in Montana and another in California, dedicated to developing and testing firefighting equipment.
Other Tragic Wildfires
October 9, 1933 - Griffith Park Fire in Los Angeles, California, kills twenty-five firefighters.
August 21, 1937 - Blackwater Fire on the Shoshone National Forest, near Cody, Wyoming, kills fifteen firefighters.
October 2, 1943 - Hauser Canyon Fire in California's Cleveland National Forest. Eleven firefighters killed, including nine U.S. Marines.
July 9, 1953 - Rattlesnake Fire on the Mendocino National Forest near Elk Creek, California. An arsonist starts a blaze which kills fifteen firefighters - fourteen volunteers from the New Tribes Mission and one USFS official.
November 25, 1956 - Inaja Fire in San Diego Canyon on the Cleveland National Forest, California. Eleven killed fighting the fire, including seven inmates from Viejas Honor Camp, their correctional officer, and three USFS firefighters.
November 1, 1966 - Loop Fire on the Angeles National Forest in California. Twelve members of the El Cariso Hotshots killed fighting the fire.
July 6, 1994 - South Canyon Fire on Storm King Mountain, near Glenwood Springs, Colorado. Fourteen firefighters killed.
June 30, 2013 - Yarnell Hill Fire in Arizona. Nineteen firefighters killed from the Granite Mountain Hotshots of Prescott.