Howard Frederick Weiss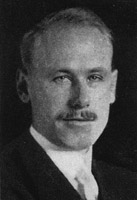 Howard F. Weiss served as the second director of the Forest Products Laboratory, holding the position from 1912 to 1917. Under his leadership, a new focus was put on the practical application of laboratory research, as well as greater cooperation between the lab and wood-using industries.
Weiss entered the Forest Service in 1905 shortly after graduating from the Sheffield Scientific School at Yale University. He worked on various regional field experiments in seasoning chestnut telephone poles, before eventually being placed in charge of the agency's Wood Preservation department.
After the creation of the Forest Products Laboratory, Weiss served as Chief of the Wood Preservation Section before being appointed Director in 1912. With his extensive background in the area, Weiss expanded the laboratory's work in the field of wood preservation, and authored what became the definitive book on the subject.
Under Weiss, the Forest Products Laboratory also undertook more cooperative work with wood-using industries, establishing working relations with the National Lumber Manufacturers' Association, the American Wood Preservers' Association, the American Society for Testing Materials, the American Pulp and Paper Association, and various other leading trade organizations. These cooperative efforts allowed lab staff to become more familiar with industry issues, as well as encouraging industry to directly apply the laboratory's research when addressing their own specific wood utilization problems. Under Weiss's leadership, Forest Products Laboratory research data was also increasingly disseminated through trade publications such as American Lumberman, Southern Lumberman, and The Timberman, giving it greater visibility and allowing for more practical application by industries throughout the country.