Frank A. Waugh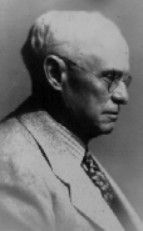 Overnight visitors to national forests in the western United States may no longer recognize the name Frank Waugh, but chances are good that they have benefited from Waugh's work. In fact, Waugh played an instrumental role in developing campgrounds on national forests throughout the Rocky Mountain West.
In 1917, the U.S. Forest Service hired Frank Waugh to work on the first comprehensive national study of recreation uses. During five months of fieldwork, Waugh visited every region managed by the Forest Service. The primary publication from his efforts, Recreation Uses in the National Forests, summarized the status of the nation's camp and picnic grounds, summer resorts, private camps, and other recreational facilities. Waugh included an analysis of the possible cash value of this recreation, which he found compared favorably to "casual urban recreation" such as movies and magazines. His calculation of the total value of national forest recreation at the time came to $7.5 million annually.
From 1918-1919, Waugh served as a Captain in the U.S. Army. When the Forest Service hired Frank Waugh as a collaborator again, this time in 1922, the following short note appeared in the September issue of American Forestry magazine: "Dr. Frank A. Waugh, professor of landscape engineering (sic) at the Massachusetts Agricultural College, Amherst, Massachusetts, has been appointed recreation engineer in the Forest Service, United States Department of Agriculture. Dr. Waugh, a noted author, and one of the leading landscape architects of this country, will spend the summer formulating plans for the development of public camp grounds and summer-home sites in the National Forests of Colorado, Wyoming, Idaho, Utah, Idaho and other western states. This study is a part of the established plan of the Forest Service toward providing adequate camp and sanitation facilities for the 5,500,000 persons who yearly seek rest, health and enjoyment in our National Forests."
Frank Albert Waugh was born in Sheboygan Falls, Wisconsin, on July 8, 1869, and died on March 20, 1943, at the age of 73. In 1891, he earned his bachelor's degree at Kansas State College, completed his M.S. there two years later, then added graduate studies at Cornell University and at universities in Germany and France before receiving an L.H.D. [doctorate of landscape and horticulture?] at the University of Vermont. Waugh was a prolific writer of magazine articles and books, whose publications ranged from books on technical horticulture (Systematic Pomology, 1903) and landscape architecture (Formal Design in Landscape Architecture, 1927) to education (The Agricultural College, 1916), gardening (Everybody's Garden, 1937), and society (Rural Improvement, 1914).
The U.S. Forest Service Headquarters History collection contains several of his publications, including Landscape Engineering in the National Forests (1918), featuring plans for ranger station dwellings and grounds, and A Plan for the Development of the Village of Grand Canyon, Ariz . (1918). The Core Historical Literature of Agriculture at Cornell University has two of Waugh's publications online, The American Peach Orchard (1913) and Country Planning: An Outline of Principles and Methods (1924).
Sources
"(Forest) Service Employs Noted Landscape Architect," September 1922, American Forestry, vol. 28(345): 568.
Handwritten note from Samuel T. Dana to Frank Harmon, November 9, 1973, photocopy.
Throop, E. Gail, "National Forests: Use and Development for Recreation in the West."