Dr. Eloise Gerry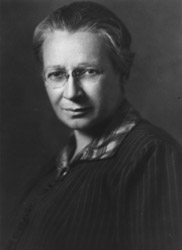 When Eloise Gerry was first hired as a research scientist by the U.S. Forest Service in 1910, she understood that she was not the agency's first choice. She later recalled, "[T]he Forest Service did not want a woman, but as it happened there wasn't any man willing to come and do the work."
The work came at the brand new Forest Products Laboratory in Madison, Wisconsin, and focused on anatomical studies of wood and its physiological properties. Despite any reluctance the Forest Service may have had to hire her, Gerry came to the job highly qualified. She held bachelor's and master's degrees from Radcliffe College (for women) at Harvard University, as well as specific training in microscopy and the preparation of wood specimens and photomicrographs. In 1921 she would earn her doctorate from the University of Wisconsin. Her dissertation, "Oleoresin Production: A Microscopic Study of the Effects Produced on Woody tissues of Southern Pines by Different Methods of Turpentining," was based on years of expertise Gerry gained in her position with the Forest Products Lab.
Eloise Gerry proved to be an excellent scientist, a devoted agency employee, and an individual determined to contribute broadly to society. She was similarly adept at laborious microscope work and engaging with rambunctious schoolkids. She applied her expertise in a variety of directions: improving methods to produce military supplies for World Wars I and II, writing stories for children, publishing more than 120 articles in technical and trade journals, and as an avid home gardener and local kennel club member.
One of Dr. Gerry's earliest and most lasting contributions to her profession came from her studies of southern pines and the production of turpentine. Overriding the objections of her supervisors, who deemed the forests, "No place for a woman," in 1916 she headed to the pinelands of Mississippi. There Gerry did pioneering work in microscopical studies of the anatomy of resin-yielding pines, and successfully developed methods to increase yield as well as prolong the working life of trees. From her field-based research, Gerry developed a program and philosophy of "More turpentine, less scar, better pine" that many later attributed as a savior for the struggling industry.
In 1936, Dr. Gerry was hailed in one newspaper article as, "The only woman scientist in her field in the world, so far as is known... [her] work in the microscopic study of growing trees has been widely recognized in recent years by scientific authorities, despite an earlier prejudice against her on account of her sex." She is regarded as the first female scientist in the Forest Service. On this point, Dr. Gerry recognized her role as a pioneer and was an active early member of the organization, Graduate Women in Science. A fellowship she helped establish continues to be offered each year in her name to female graduate students in chemistry or biology.
After 44 years of service, Eloise Gerry retired from the Forest Service in 1954. Included among her many associations and societies, she was an early member of the Forest History Society. She remained active and in good health for many years until her death in 1970 at the age of 85. At that time a longtime friend and former colleague noted, "She has given of herself not only in scientific fields but in the world about her with the generous impulses of a warm heart... [S]he has made a life pattern from the living forest that gives and gives yet seeks nothing in return."
The U.S. Forest Service Headquarters History Collection contains several of the research publications authored by Dr. Gerry. Search the Collection Database for further information.
Written by: David Havlick, special projects, Forest History Society.
Various U.S. Forest Service publications written by Dr. Gerry.
Additional Resources
"Eloise Gerry: A Woman of Forest Science." by Lida W. McBeath, Journal of Forest History, vol. 22: July 1978, p.128-135.
"Studies Trees." Ottumwa Courier, Ottumwa, IA, April 3, 1936.
"Dr. Eloise Gerry." The Federal Employee, February 1955.