McGarvey Cline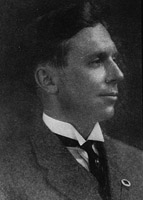 McGarvey Cline was the man largely responsible for the creation of the Forest Products Laboratory as a base for the Forest Service's research operations. Along with Chief Gifford Pinchot, Cline worked to found the laboratory in Madison, Wisconsin, and then served as its first director, holding the position from 1910 to 1912.
Cline joined the Forest Service in 1904 as a research engineer, and his first assignment involved conducting timber testing demonstrations at the St. Louis World's Fair. Cline later visited various universities working with the Forest Service on research projects in the areas of wood strength, preservation, and papermaking. Observing these research projects led Cline to propose to Pinchot that a central Forest Service research laboratory be built. This action ultimately led to the creation of the Forest Products Laboratory on the University of Wisconsin campus in Madison, which began operations in 1909. Cline selected the initial laboratory staff of 45 scientists and aids.
Cline served as director of the Forest Products Laboratory from its official founding in 1910 until 1912, when he resigned to go into the private timber business in Florida, as well as do consulting work for a naval stores firm.