Ferdinand A. Silcox (1882-1939)
5th Chief of the Forest Service, 1933-1939
Ferdinand Augustus Silcox was born on Christmas Day in 1882, at Columbus, Georgia. He graduated from the College of Charleston, South Carolina, in 1903, with honors in chemistry and sociology. He went on to take a masters degree in forestry from the Yale Forest School in 1905. He served with the Forest Service in the northern Rockies after graduation. Silcox entered the Engineer (Forestry) branch of the U.S. Army in 1917 as a captain, leaving as a major. He was selected to handle labor problems at the shipyards in the Puget Sound and Columbia River districts during much of World War I. After the war, Silcox worked in the private sector for 11 years as a director of industrial relations before being appointed as chief.
The great depression was in full swing when Silcox took over as chief; he led the Forest Service during some of the most difficult times. He was able to effectively help millions of unemployed workers deal with the Depression through the Civilian Conservation Corps (CCC) and Works Projects Administration (WPA) projects in the national forests. The Forest Service provided space for the 200-man CCC camps, thousands of work projects, and experienced project leaders. More than two million unemployed young men enrolled in the CCC during the nine years of its existence.
"Civilizations have waxed and waned with their material resources; dwindling means of livelihood have set rolling great tidal waves of migration and have been a prolific cause of domestic disorder, class uprising, and international war; but never before have the people of a great country still rich in the foundations of prosperity sought to forestall future disaster by applying a national policy of conservation---of which planned land use is the central core."

Ferdinand A. Silcox
Extensive cooperation with the U.S. Army, Department of Labor, and other federal and state land management agencies was needed to get these programs to work effectively. His previous work for the Army and in the private sector proved to be invaluable for getting the job done. An able administrator, Silcox treated his associates and subordinates with great consideration and kindness. He had an enduring humanitarian viewpoint which resulted in doing his best to help the "have nots" in society. His ideas of forest conservation and advocacy of the public regulation of timber cutting all brought strong opponents as well as loyal adherents.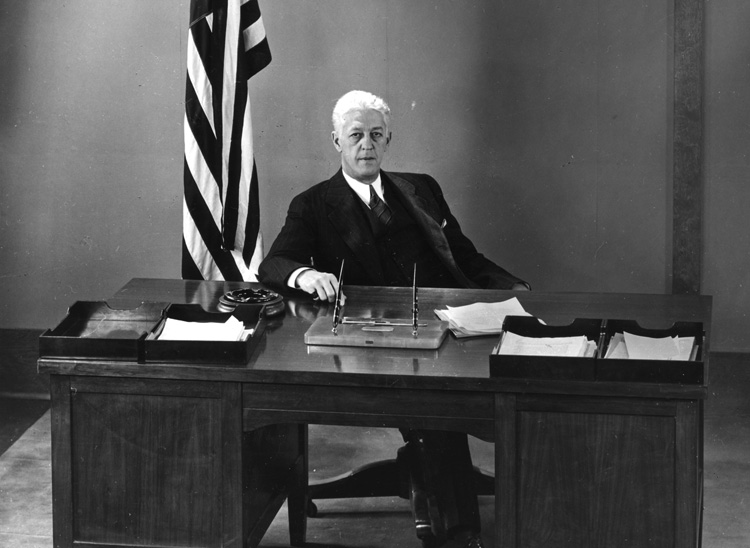 Silcox's contributions to the forest conservation movement were many, but especially significant was his success in focusing public attention on the conservation problems of private forest land ownership. The Forest Service also made a study of western range use and surveyed forested watersheds for flood control. Under the Prairie States Forestry Project, 217 million acres were planted by 33,000 plains farmers.