Grey Towers National Historic Landmark
Rising above the small town of Milford in northeastern Pennsylvania is Grey Towers, a National Historic Landmark operated by the U.S. Forest Service. It is the family home of Gifford Pinchot, the first chief of the U.S. Forest Service and a two-term governor of the Keystone State.
Gifford's parents, James and Mary Pinchot, built Grey Towers in the 1880s on land that had only recently been heavily logged. Under James's guiding vision, the French chateau-style estate soon became the hub of forestry and conservation activity. James had encouraged his eldest child Gifford to become a forester, a proposal Gifford eagerly accepted while a student at Yale. The estate's 1,600 acres later served as the site of the Yale School of Forestry's summer camp. After Gifford was fired from the Forest Service in 1910, Grey Towers served as his primary residence.
After Gifford's marriage to Cornelia Bryce in 1914, the couple renovated the house and also added buildings like the Letter Box to accommodate the growing family and Gifford's budding political career. In 1963, Gifford Bryce Pinchot, Gifford and Cornelia's son, donated Grey Towers and 102 acres to the U.S. Forest Service. The Pinchot Institute for Conservation, a national nonprofit group named for Gifford Pinchot, was established at this time to carry on Pinchot's conservation legacy.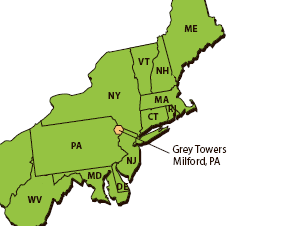 Today, Grey Towers remains a hub of forestry and conservation activity. It provides conference facilities for natural-resource groups and office space for the Pinchot Institute for Conservation. House and garden tours, on-site programs including environmental education programs and concerts, and other recreational activities such as short hiking trails are available to the public. Grey Towers is located in the northeast corner of Pennsylvania on the outskirts of Milford.
Additional Pages