James T. Jardine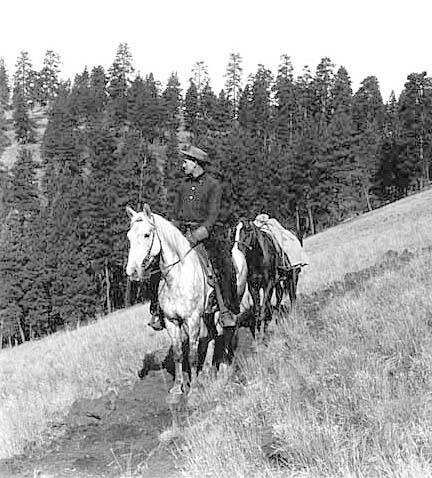 First hired to work as a special agent for the Forest Service under chief Gifford Pinchot, Idaho stockman James Jardine earned a lasting reputation for both his influence on grazing policies and his role in U.S. Department of Agriculture research.
After earning a bachelor's degree in civil engineering at Utah State Agricultural College, Jardine took graduate courses in English at the University of Chicago. He returned west to teach English at Utah State, then joined the Forest Service where he quickly rose through the ranks. After just a year as a special agent, in 1908 Jardine advanced to the position of deputy forest supervisor of the Wallowa National Forest in eastern Oregon. By 1910, Jardine was named inspector of grazing for "investigation of methods of range control and restoration of overgrazed ranges."
From 1907 through his decade as inspector of grazing, Jardine conducted numerous studies focused on improving grazing conditions, map suitable range, and estimate carrying capacities. Prominent among many publications was his, "Range Management on the National Forests," which has been considered a classic reference since its publication in 1919.
From 1920 to 1931, Jardine turned his attention more fully to research priorities, as he took a position as director of Oregon's agricultural Experiment Station in Corvallis. In 1931 he returned to the Department of Agriculture as chief of the Office of Experiment Stations, a position in which he served until his retirement in 1946. From 1936 to 1941 Jardine also worked as Director of Research for the Department of Agriculture.
In recognition of his research and administrative accomplishments, James Jardine was awarded honorary doctorate degrees from Kansas State College in 1935 and by Clemson College in 1937. Born on a livestock ranch in rural Idaho in 1881, James died in Washington, D.C. on October 24, 1954.
Incidentally, James was not the only Jardine to rise to prominence in the U.S. Department of Agriculture. His older brother, William M. Jardine, was appointed Secretary of Agriculture by President Calvin Coolidge and served from 1925 to 1929. During his career, William Jardine also held positions as president of Kansas State Agricultural College, president of the University of Wichita, and as a U.S. Minister to Egypt.
Written by: David G. Havlick, Special Projects, Forest History Society
Sources
Rand, Frederick V. "Agricultural Researcher and Statesman", U.S. Department of Agriculture Bulletin, March 19, 1945.
Forest Service Directories (Quarterly), 1910-1914, U.S. Department of Agriculture, Forest Service.
U.S.F.S. Field Program, 1909-1910, U.S. Department of Agriculture, Forest Service.