Thornton T. Munger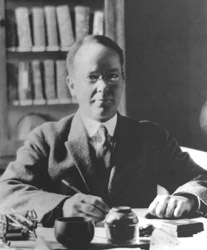 In 38 years with the Forest Service and 30 more as a retiree, Thornton Munger wore many titles: station director, forest researcher, honorary doctor of science, chairman of citizen committees, and more. Throughout his long life, Munger proved himself a diligent employee, an active citizen, a husband, and a father. Through a quirk of circumstances, Munger also happened to be at the dinner table with Gifford Pinchot a certain January night in 1910, when Pinchot read a notice from the White House that he had been fired from his position as the Forest Service's first chief.
Perhaps it was fitting then, that 67 years later forestry professionals and Munger's relatives would gather at the 1,180-acre tract of the Wind River Research Natural Area of the Gifford Pinchot National Forest in Washington to rename it the Thornton T. Munger Research Natural Area.
From his boyhood home in North Adams, Massachusetts, Munger grew up living next to the Hillhouse Woods, a natural park and site for plant studies. Later accounts credited this setting for its influence on Thornton Munger's career and lifelong interest in forests and other natural areas. Munger also trained himself in his profession, graduating from Yale in 1905, studying forestry in Europe for nine months, then returning to earn a master's degree in forestry at his alma mater in 1908. With degrees, training, and youthful interests in hand, Munger proceeded directly to work for the U.S. Forest Service. By year's end, 1908, he was assigned to the agency's new North Pacific District in Portland, Oregon, where he would live out the remainder of his 91 years.
From his earliest years in the Pacific Northwest, Munger was instrumental in establishing research operations at the pioneering Wind River Experiment Station in Washington. When Congress established the Pacific Northwest Forest Experiment Station in Portland in 1924, the Forest Service turned to Munger to serve as the station's first director. The station's research included valuable long-term studies of plant and animal communities in the Pacific Northwest. Some of these projects continued more than four decades later.
In 1938, Munger chose to step down from his role as director of the station in order to focus more of his time on research in the role of station division chief. In tribute to his contributions to silviculture, Oregon State University granted Munger an honorary doctorate in science that same year.
Munger retired from the Forest Service in 1946, but he remained an active citizen and part of Portland's conservation community. He chaired the Forest Park Committee, which helped preserve a 5,000-acre woodland within reach of Portland's downtown. He also served as secretary of the Multnomah County Planning Commission and played an integral role in developing a county park system. Munger also maintained memberships in a number of professional and conservation societies, including the Society of American Foresters, Ecological Society of America, Oregon Academy of Science, the Audubon Society, and local groups such as the Oregon Roadside Council and Save the Myrtle Woods. Following his death in 1975, Munger's legacy was permanently honored with the Thornton T. Munger Research Natural Area, officially designated at Wind River in 1977.
Written by: David G. Havlick, Special Projects, Forest History Society
Additional Resources
Fry, Amelia R. Thornton T. Munger: Forest Research in the Northwest. Santa Cruz, CA : Forest History Society, 1967.
Sources
"Pioneer Forest Researcher Honored", U.S. Forest Service Region 6 "Greensheet" newsletter, April 22, 1977.
"Obituary: Leading Forester Succumbs", Oregon Journal, August 14, 1975.
"Early Day Forester, T.T. Munger, Dies", Oregonian, August 14, 1975.