Forest History Today Magazine
Spring/Fall 2015 Issue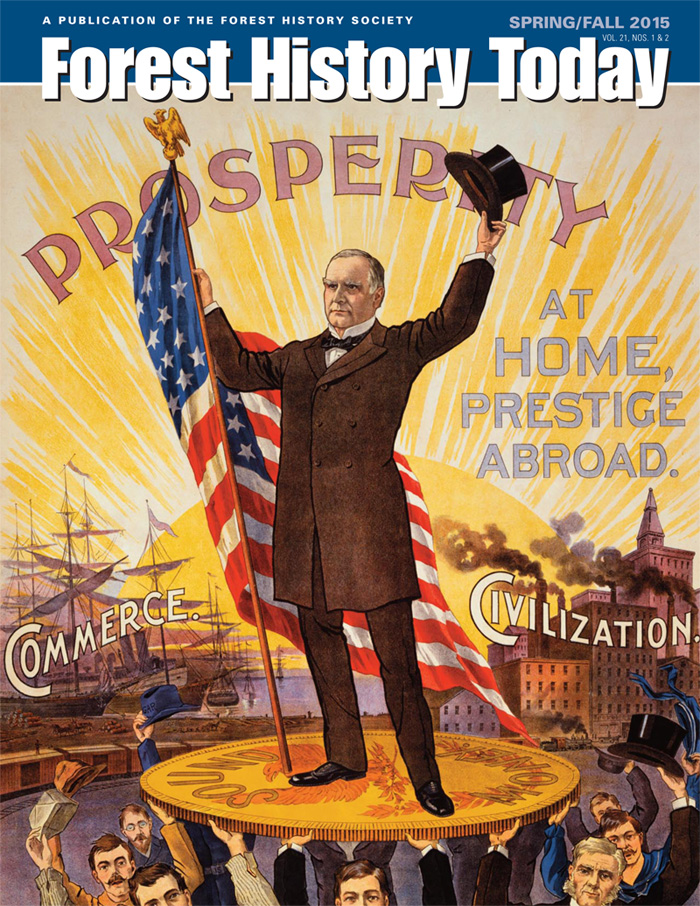 View the table of contents for the Spring/Fall 2015 issue below.
Feature articles in the Spring/Fall 2015 issue include discussion of the Netherland's Nature Scenery Act of 1928; how the romantic life of the young Gifford Pinchot changed landscape architecture; President William McKinley's conservation record; a forgotten historic fire in Canada; the impact of the Congregational Church on the conservation movement; and an overview of wildfire on the Korean peninsula.
Linked articles are accessible in PDF format (requires Acrobat Reader).
Download full issue [PDF]
Contents
[i]
"Message from the President: Seventy Years Young" [PDF]
2
"Editor's Note" by James G. Lewis [PDF]
Features
4
"The Nature Scenery Act of 1928 in the Netherlands" by S. W. Verstegen [PDF]
14
"Apollo and Shooting Star: The Youthful Correspondence of Beatrix Jones Farrand and Gifford Pinchot" by Bibi Gaston [PDF]
22
"The Great Fire of 1919: People and a Shared Firestorm in Alberta and Saskatchewan, Canada" by Peter J. Murphy, Cordy Tymstra, and Merle Massie [PDF]
32
"Measured Impact: William B. McKinley and Late-Nineteenth-Century Conservation" by Char Miller [PDF]
39
"Farms, Forests, and Parks and the Congregational Quest for an Equitable and Sustainable Society"by Mark Stoll [PDF]
50
"In the Line of Fire: An Overview of Wildfire in Korea" by Stephen J. Pyne [PDF]
Departments
54
"Biographical Portrait: Duane Leroy Bliss, Lumber Baron of the Comstock Lode" by Jack Harpster [PDF]
59
"History on the Road: John Muir and Aldo Leopold in Wisconsin" by Thomas J. Straka and James G. Lewis [PDF]
63
Books and Films of Interest by Jason Howard, Eben Lehman and James G. Lewis [PDF]
70
Mark Your Calendar [PDF]
Annual Report
71
From the Chair [PDF]
71
Treasurer's Report [PDF]
73
Contributions and Project Sponsors [PDF]
75
Welcome to New Members [PDF]
75
Honor Roll of Members 25+ Years [PDF]
76
Gifts to the Forest History Society Library [PDF]
78
Awards and Fellowships [PDF]
80
Publications of the Forest History Society [PDF]
82
Back Cover [PDF]