Nontimber Forest Products and Bioeconomy Webinar Series
Nontimber forest products (NTFPs) are goods used for food, medicine, decorations and adornments, nursery and landscaping products, and fine arts and crafts. They are harvested for personal consumption and for household economic benefit. Yet, NTFPs are invisible and under-reported in national statistics, obscuring their role in contributing to poverty reduction, food and health security, and social stability. Recognizing the importance of these natural resources and integrating them into national efforts to develop the bioeconomy, requires expanding current perspectives of what is included in the bioeconomy.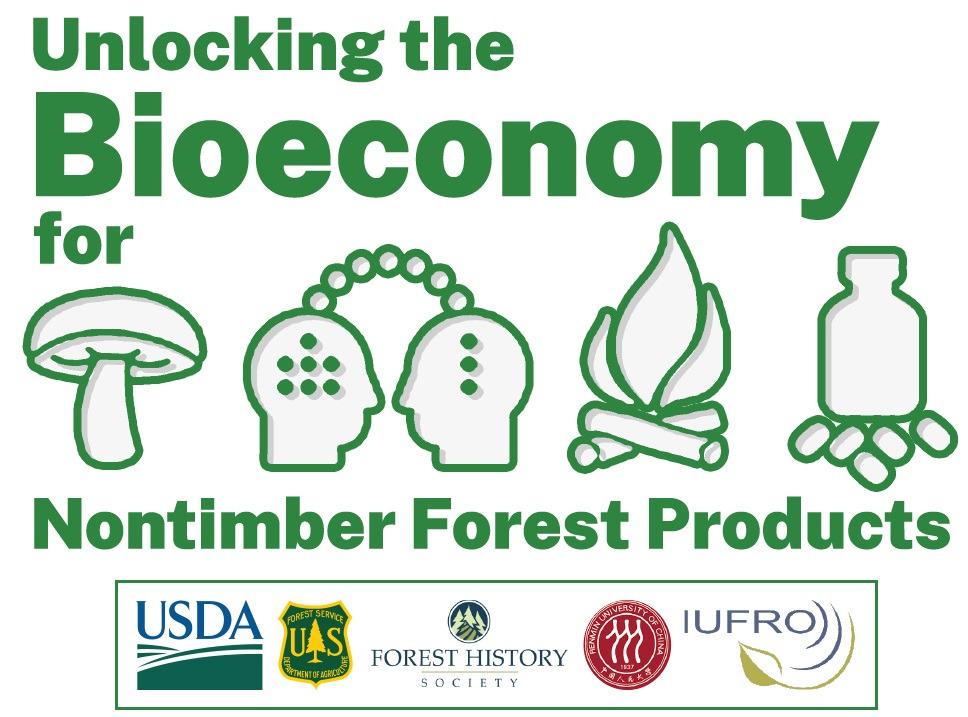 The bioeconomy emphasizes knowledge-based production and use of renewable biological resources to provide existing and new products, through sustainable processes. The bioeconomy can reduce environmental impacts of economic growth by science-based management that promotes sustainable harvests and production.
The International Union of Forest Research Organizations (IUFRO) Task Force is investigating how nontimber forest products have been integrated into global and national efforts to transition to and expand the bioeconomy, and how such efforts can be supported with research. With more than 70 experts representing over 20 institutions, the Task Force is facilitating dialogue, and sharing knowledge to propose frameworks that support the understanding and reporting of NTFP contributions to the bioeconomy. This webinar series is an opportunity to hear from these experts on contemporary research that strengthens knowledge about these important products within a bioeconomy concept. Presentations will consist of a 20-minute presentation and 30 minutes of questions-and-answers with the presenter.
This webinar series is hosted on Zoom by the U.S. Department of Agriculture, U.S. Forest Service, The Forest History Society, Renmin University of China, and the IUFRO Task Force.
You can see all the presentation videos on our YouTube channel by following this link.
Speaker
Institution
Title
Date
Time
Sven Mutke
Forest Research Center, INIA-CIFOR, Spain
Video available at
Non-wood Provisioning Services from Mediterranean Forest Ecosystems
Aug. 31
Verónica Loewe Muñoz
Chilean Forestry Institute, INFOR, Chile
Video available at
Stone Pine Cultivation and the Emerging Bioeconomy in Chile
Sept. 30
Harald Vacik
University of Natural Resources and Life Sciences – Institute of Silviculture, Austria
Video available at
Comparing the Potential of Non-Wood Forest Products in Six European Regions
Oct. 20
Kathrin Meinhold
Rhine-Waal University of Applied Sciences, Germany
"Commercialization of Baobab Fruit Products as an Exemplary NTFP: Lessons Learned from Local to Global Markets"
Register HERE
Nov. 18
8:30-9:30 a.m. ET / 1330-1430 UTC
Carsten Smith-Hall
University of Copenhagen, Denmark
Towards a Himalayan Bioeconomy
Register HERE
Dec. 17
9:00 a.m. ET /
1400 UTC
Liu Jinlong
Renmin University of China, Beijing, China
Roles of NTFPs in Poverty Alleviation in China: Cases of Southwest China
January
James Chamberlain
USDA Forest Service, United States
NTFPs and Bioeconomy in the United States
Feb. 15, 2022
1330 UTC
Marko Lovric
European Forest Institute
NTFPs and Bioeconomy in the European Union
March 22, 2022
Unprecedented Seasons
Presenters use the lens of environmental history, biography, and memoir to explore the biggest topics of the past few years: racial inequality and social justice, social isolation/distancing, and climate change.
Lynn W. Day Lectureship
This annual lecture in forest and conservation history features recognized scholars or leaders in natural resources who are shaping our understanding of human history and environmental change.