Ground Work: Conservation in American Culture
By Charles E. Twining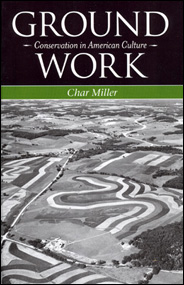 Ground Work offers intriguing insights into American conservation history. Miller demonstrates his remarkable ability as a historian to cast new light on familiar events and figures, such as Bernhard Fernow and Gifford Pinchot, and create a deeper and richer understanding of their significance, both in their times and in our own. Ground Work is a series of vignettes rather than a chronologically continuous tale. It spans topics from the Progressive Era roots of the American conservation movement, on which Miller has proven his virtuosity in earlier works such as Gifford Pinchot and the Making of Modern Environmentalism, to new insights into the impact of documentary films on the environmental perceptions of 21st-century urban America. Advanced undergraduate and graduate courses in environmental and forest history will find these essays stimulating, general nonfiction readers very enlightening.
Char Miller is the W. M. Keck Professor of Environmental Analysis at Pomona College. His most recent books include Gifford Pinchot: Selected Writings (2017), Not So Golden State: Sustainability vs. the California Dream (2016), and America's Great National Forests, Wilderness, and Grasslands (2016). Other works include the award-winning Gifford Pinchot and the Making of Modern Environmentalism (2004), On the Edge: Water, Immigration, and Politics in the Southwest (2013) and Seeking the Greatest Good: The Conservation Legacy of Gifford Pinchot (2013). Co-author of Death Valley National Park: A History (2013) and co-editor of Forest Conservation in the Anthropocene: Science, Policy, and Practice (2016), Miller is a Fellow of the Forest History Society and Senior Fellow at the Pinchot Institute for Conservation.
$19.95 plus $4.00 shipping
University of Washington Press, 1994. Hardcover.