The Forest Service and The Greatest Good: A Centennial History
James G. Lewis (ed.)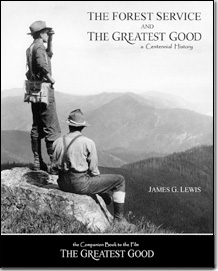 The Forest Service and the Greatest Good: A Centennial History traces the agency's development from its beginnings as a one-man research outfit to today's broad-based operation of over 30,000 employees overseeing 191 million acres of public land. Richly illustrated, The Forest Service and the Greatest Good provides an entertaining, thought-provoking, and informative account of the U.S. Forest Service's first one hundred years as it enters a new century of service.
In 2021, the book was shortlisted for the Eric Hoffer Book Award in the Legacy Nonfiction category and also for the Montaigne Medal. Regarding the Eric Hoffer Award, FHS was told, "After our rigorous first round of judging, less than 10% of the nominees become category finalists. We consider this a distinction of its own merit… Finalists are selected by category scoring and considered for category honors. There are typically 1-6 books per category selected as a finalist."
Upon submission for the Hoffer Award, the book was automatically considered for the Montaigne Medal, putting it in competition with books submitted in 2021 award year regardless of publication date. According to the award website, "Each year, the Eric Hoffer Award presents the Montaigne Medal to the most thought-provoking books. These are books that either illuminate, progress, or redirect thought."
Order the Book and DVD Together and Save!
Forest History Society, 2018. xiv + 156 pp., 24 images, 6 tables & graphs, 9 maps