Forest History Today Magazine
Spring/Fall 2011 – Weeks Act Centennial Issue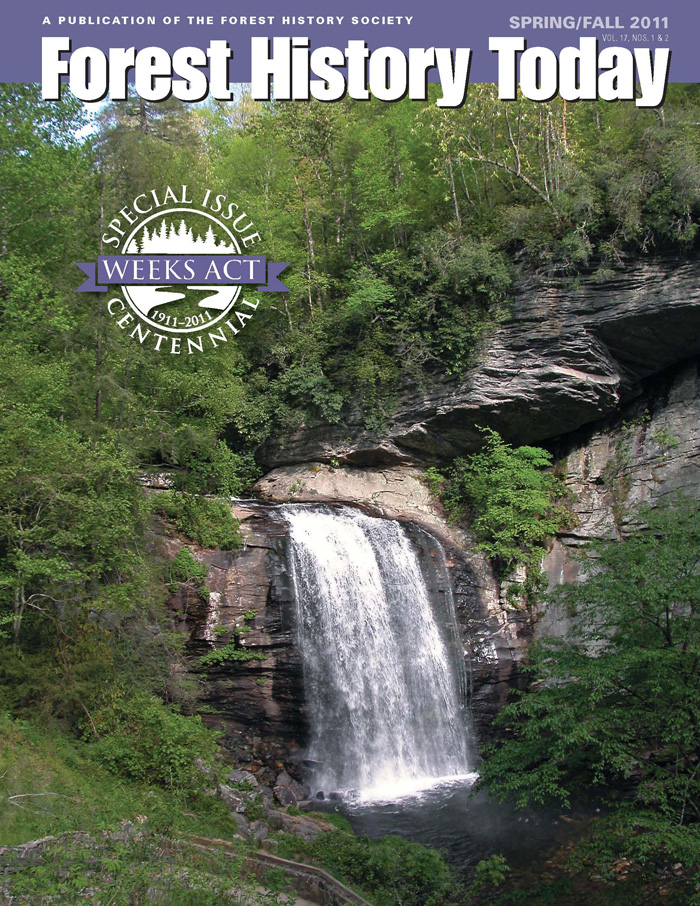 View the table of contents for this special Weeks Act centennial edition below.
This issue explores the history, impact, and future of the 1911 Weeks Act, a law which allowed for the eastern expansion of the national forest system through the federal purchase of private lands and created the framework for cooperative fire management.
Linked articles are accessible in PDF format (requires Acrobat Reader).
Contents
[i]
"Message from the President: 'The Weeks Act: A Watershed in Forest History'" [PDF]
2
"Editor's Note" by James G. Lewis [PDF]
Features
3
"H.R. 11798: The Weeks Act" [PDF]
8
"The Law That Nationalized the U.S. Forest Service" by Lincoln Bramwell and James G. Lewis [PDF]
17
"The History of Cooperative Forest Fire Control and the Weeks Act" by Lewis F. Southard [PDF]
22
"Rewilding the East: The Weeks Act and the Expansion of Federal Forestry" by Char Miller [PDF]
26
"The Weeks Act as a Public Investment" by Robert G. Healy [PDF]
32
"Surface and Mineral Rights and the Weeks Act" by Dave Fredley [PDF]
40
"The Weeks Act: A Story of Perseverance" by Tom Tidwell [PDF]
48
"Transforming the Cutover: The Establishment of National Forests in Northern Michigan" by Joseph J. Jones [PDF]
56
"Establishing the Francis Marion: National Forest History in South Carolina's Lowcountry, 1901–1936" by Al Hester [PDF]
64
"The Lessons of History: Making a Case for a National Forest in Hawai'i" by John Henshaw and James G. Lewis [PDF]
70
"Implementing the Weeks Act: A Lawyer's Perspective" by James B. Snow [PDF]
77
"Deconstructing the Renaissance: How the Weeks Act and Conservation Innovators Restored the Eastern Forests" by Jad Daley [PDF]
83
"Trends in Forestland Ownership and Conservation" by Peter R. Stein [PDF]
87
"Family Forest Owners Rule!" by Brett J. Butler [PDF]
92
"The Weeks Act: A Legacy of Partnerships" by Joel Holtrop [PDF]
96
"The Weeks Act and the Future of Land Conservation Policy in the United States" by V. Alvaric Sample [PDF]
Departments
99
"Biographical Portrait: John W. Weeks (1860–1926)" by Iris Baird [PDF]
103
"History on the Road: Asheville, North Carolina, and the Cradle of Forestry" by Bill Alexander [PDF]
110
Books and Films of Interest [PDF]
110
Back Cover [PDF]