The 'Ace Photographer' and Paul Bunyan: Berenice Abbott's Red River Lumber Company Photos
By Eben Lehman on April 13, 2022
In February 1944 a new photograph exhibition opened at a San Francisco gallery, featuring a new set of images by the talented American photographer Berenice Abbott (1898-1991). The location where she had shot was a radical departure for the photographer known for working in urban settings: a lumber mill in a small town in northern California.
Abbott was fairly well known in the photography world, having first achieved notice in Paris during the 1920s for her portraits of artists and writers such as James Joyce, Janet Flanner, and Jean Cocteau. Over the following decade she earned praise for her extensive work in New York City, documenting the city's architecture and street scenes. In 1943 she took her first trip to the West Coast with an assignment to photograph a new subject: the California forest products industry. This project came at the behest of Hudson D. Walker, a prominent curator who owned a New York City gallery. His grandfather Thomas Barlow Walker had founded the Red River Lumber Company in 1884 with his sons, and also opened the Walker Art Gallery in 1879, both in Minnesota. Abbott was hired to photograph the company's logging and lumber mill operations in Westwood, California, for use in advertising.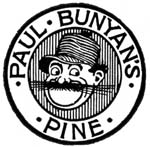 Needing a new timber supply, in 1913 Red River had shifted operations west and set up a company town and sawmill in Westwood. The company's subsequent growth can be attributed in part to the Paul Bunyan character, which was heavily featured in the company's advertising and promotional materials for its "Paul Bunyan's Pine" product line. William B. Laughead, advertising manager at the company and a former logger, was the source of all the Paul Bunyan materials. In addition to spreading Red River Lumber's name, over the next four decades Laughead's work helped introduce the legend of Bunyan to the general public. Ad copy sometimes referred to the employees as the sons and daughters of Paul Bunyan. The Paul Bunyan logo is visible in some of Abbott's photos but not featured.
When Abbott arrived in 1943, Red River Lumber was a large company with several thousand employees and a handful of offices around California. Abbott carried out the photography project at the company's center of operations in Westwood. Bringing her unique artistic eye to the industrial landscape, she took striking shots of the lumber mills, lumber yards, logging operations, and heavy machinery. She also made a series of portraits of some of the company's workers. In a letter sent the following year, advertising manager Laughead was clearly impressed by Abbott's time at Red River: "Last summer we engaged Berenice Abbott, one of America's ace photographers, to make a series on our plant and woods operations at Westwood… Our object in engaging a photographer of Miss Abbott's caliber was to get better art than the regular commercial shots."
Abbott's Westwood work was indeed art. Fifty-four were selected for the touring museum and gallery exhibition "Lumbering and Logging in the Pine Forest of California" and initially shown at the M. H. DeYoung Memorial Museum in San Francisco from February 22 to March 21, 1944 (view the original exhibition catalog). In November 1944, Red River and Westwood were sold to the Fruit Growers Supply Company. In a way, Abbott's photos serve as a visual elegy for the Walker era of ownership.
The FHS archives contain a portion of Abbott's Red River Lumber Company photographs. They provide a unique record of the company's operations in 1943, and also complement our other archival materials on William B. Laughead and Red River. View some of her work in the slideshow below, and browse all the Berenice Abbott photos at FHS via our Image Database.