American Forests: A History of Resiliency and Recovery
By Douglas W. MacCleery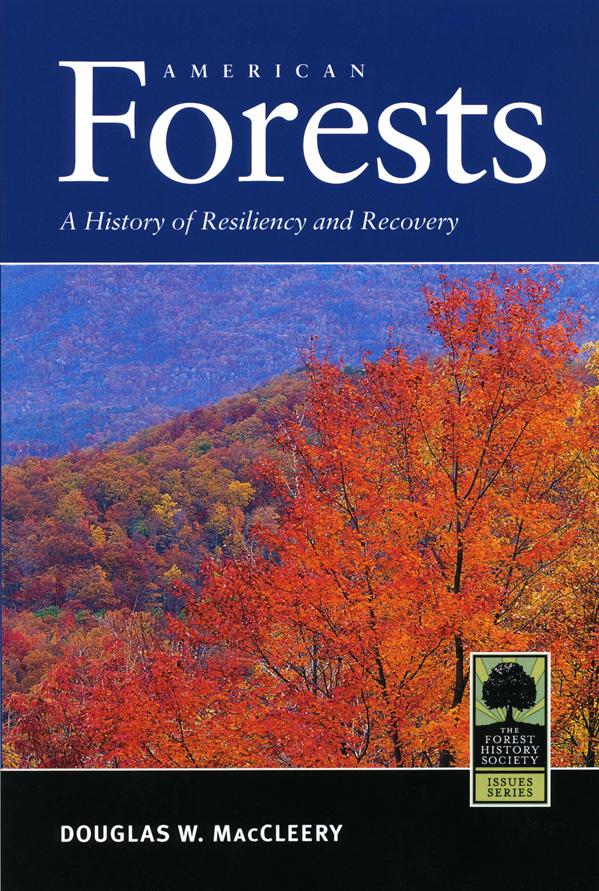 For more than a century, Americans have carried on a debate about their forests, and the sometimes-heated discussions continue today. In American Forests, Douglas MacCleery traces this debate from the time that forest management first came to the United States and became the center of the Conservation Movement. It is newly revised in 2011 with updated graphs and text.
First published in 1992, it was reprinted four times, with significant updates or revisions to graphs and to a lesser extent text. It has reached over 25,000 households, classrooms, and legislative offices with an unbiased overview of the changes America's forests experienced from colonial times to the present. Conservatively, a hundred thousand students have benefitted either directly or indirectly by the publication.
MacCleery's history of recovery establishes that the "timber famine" that Theodore Roosevelt and Gifford Pinchot so stridently forecast in the early twentieth century never occurred. He shows that logged lands have come back, either through natural processes or human effort, unless converted to agricultural or urban use. Also, many species of wildlife-once diminished-are again abundant, forested watersheds are better protected, and the number of forest acres that burn each year has been dramatically reduced. Nonetheless, as MacCleery points out, the new forests are different from the original forests, which had evolved according to nature's rhythms and in response to native peoples' significant manipulation. And while some wildlife species thrive under the new conditions, others do not. Appreciation of the forest as an ecosystem increases, but the debate is not over.
Douglas W. MacCleery is a professional forester who has worked in natural resource management and policy for his entire career. He has bachelor's and master's degrees in forestry from Michigan State University.
© 2011 (Revised edition) Forest History Society
71 pp.; 11 photos; 20 figures and graphs.
Issues Series booklets are $9.95 (plus $4.00 shipping). Discounts are available if ordering 10 or more copies.