Hot off the Press: Forest History Today fire issue
By James Lewis on November 20, 2008
With the forest fires still burning in southern California and some suggesting that fire season there is now a year-round event, the publication of the Fall 2008 issue of Forest History Today is rather timely, to say the least. The Forest History Society is proud to present in this special issue the papers delivered at the workshop on fire and the Wildland-Urban Interface (WUI) that preceded this spring's American Society for Environmental History meeting in Boise. Articles by leading historians, journalists, and fire researchers look at the history of wildland-urban interface fires, the need to rethink the approach in the U.S. to fighting fire in the WUI, the role that historians can play in these discussions, and how news coverage of wildfires has changed over the years. Contributors include Steve Pyne, William Sommers, Jack Cohen, Mark Neuzil, Rocky Barker, and Patty Limerick. You can find the complete issue on the Forest History Today webpage.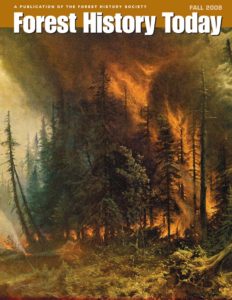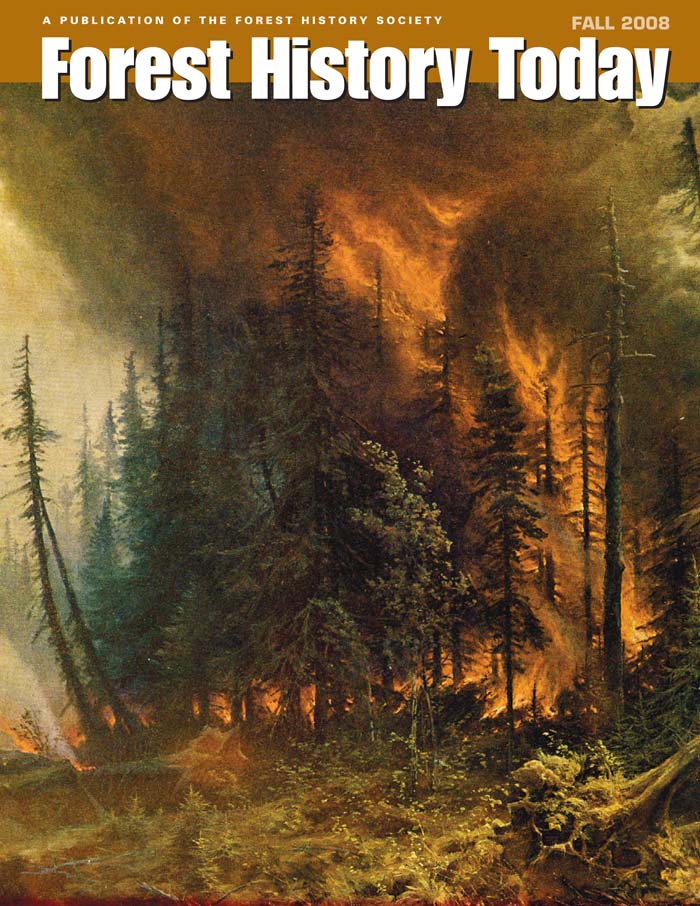 In addition to articles on fire and WUI, you'll find Steve Pyne's fascinating history of an iconic fire painting (which graces the cover), a "Biographical Portrait" of Theodore Roosevelt in honor of his 150th birthday, and a "History on the Road" column that takes you on a tour of nineteenth-century charcoal kilns in Nevada.
The Spring 2008 issue of Forest History Today, with articles on the latest trends in nature-based outdoor recreation, the historic -- and imperiled -- ponderosa pine ecosystem, and an excerpt from Mike McCloskey's memoir about his days in the Sierra Club, is also available online along with all previous issues.
Deprecated: File Theme without comments.php is
deprecated
since version 3.0.0 with no alternative available. Please include a comments.php template in your theme. in /var/www/wp-includes/functions.php on line 5583
0 responses to "Hot off the Press: Forest History Today fire issue"