Charles Augustus Weyerhaeuser
In 1991 the Forest History Society (FHS) asked former board member Walter S. Rosenberry III to select a name for the Society's biennial book award. Rosenberry named the award in honor of his maternal grandfather, Charles Augustus Weyerhaeuser (1866-1930), who exhibited a sincere dedication to family and career as well as a strong commitment to service throughout his life. Charles Weyerhaeuser is a positive role model that the Society is pleased to hold up as an example when offering its Charles A. Weyerhaeuser Book Award to reward superior scholarship in forest and conservation history.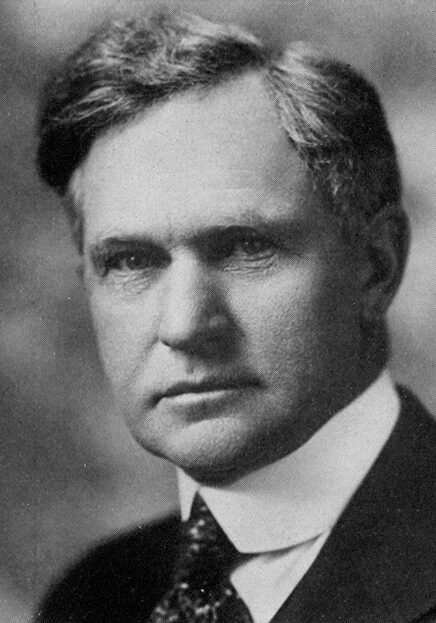 Charles Augustus Weyerhaeuser was born on 2 April 1866 to parents Frederick (1834-1914) and Sarah Weyerhaeuser. Charles apprenticed at various jobs within the family timber business before taking over management of the Pine Tree Lumber Company in Little Falls, Minnesota, with family friend Richard "Drew" Musser when they both were in their mid-twenties. The boys' fathers Frederick Weyerhaeuser and Peter Musser had formed the company along with seven other lumbermen on 24 June 1890. Drew Musser, whose father was company president, presided over sales and served as secretary for the organization while Charles managed the company's logging, sorting, and milling activities. Under their collective management skills, the Pine Tree Lumber Company was debt free and earning solid profits by 1899.
Charles Weyerhaeuser and Drew Musser were close friends as well as business partners. When Charles married Frances Maud Moon in Duluth, Minnesota, on 14 December 1898 and moved into a grand home he built overlooking the Mississippi River in Little Falls, Drew Musser built a luxurious home next door. The two men entertained business dignitaries together at their homes while their wives participated in the local social and charity scene. In 1920 the Pine Tree Mill closed, and Charles and Maud moved away from Little Falls. The Mussers' daughter Laura Jane later resided in the former Weyerhaeuser home.
Charles and Maud Weyerhaeuser had one son, Carl Augustus Weyerhaeuser, born in 1901, who devoted his life to art and literature. He served on the boards of many museums and was very interested in historic preservation. His three sons are: Charles A. Weyerhaeuser, Henry G. Weyerhaeuser, and Robert M. Weyerhaeuser.
Charles and Mauds's daughter, Sarah Maud, married Walter S. Rosenberry, Jr., on 20 June 1930. Charles did not live to see his daughter wed because he died unexpectedly of blood poisoning on 15 February 1930 while on a cruise around the world with Maud. The Weyerhaeuser family embraced Sarah Maud's new husband and brought Rosenberry into the family business. Sarah Maud and Walter produced daughters Lucy Rosenberry and Elise Bancroft Rosenberry (who later married Robert Moore Phares) and sons Charles Weyerhaeuser Rosenberry and Walter Samuel Rosenberry III (who later married Margaret Jane Ross).
Throughout his long career as a timber executive, Charles Augustus Weyerhaeuser was a director of numerous successful enterprises. He served on the board of directors of Boise Payette Lumber Company from 1927 to 1930 and of Northwest Paper Company from 1898 to 1930. He was president of Potlatch Lumber Company from 1903 to 1930 and served as a director of Weyerhaeuser Timber Company from 1928 until the time of his death in 1930.
Sources
Hidy, Ralph W., Frank Ernest Hill, and Allan Nevins. Timber and Men: The Weyerhaeuser Story. New York: MacMillan Company, 1963.
Twining, Charles E. F. K. Weyerhaeuser: A Biography. St. Paul: Minnesota Historical Society Press, 1997.
Twining, Charles E. Phil Weyerhaeuser, Lumberman. Seattle: University of Washington Press, 1985.
Warner, Jan. "The Musser-Weyerhaeuser Legacy." Newsletter of the Morrison County Historical Society's Charles A. Weyerhaeuser Memorial Museum 7 (Winter 1993): 1, 5.