Carl Weyerhaeuser (1901-1996)
The Forest History Society's Carl A. Weyerhaeuser Library is named for an early supporter of the Society's library development program. A generous financial contributor to the FHS Endowment Fund, Carl Weyerhaeuser helped provide financial stability for the Society, allowing us to build a solid, specialized collection of library holdings. Mr. Weyerhaeuser passed away at age 95 in his Boston, Massachusetts, home on 22 October 1996, but his legacy will live on in the continuing work of FHS.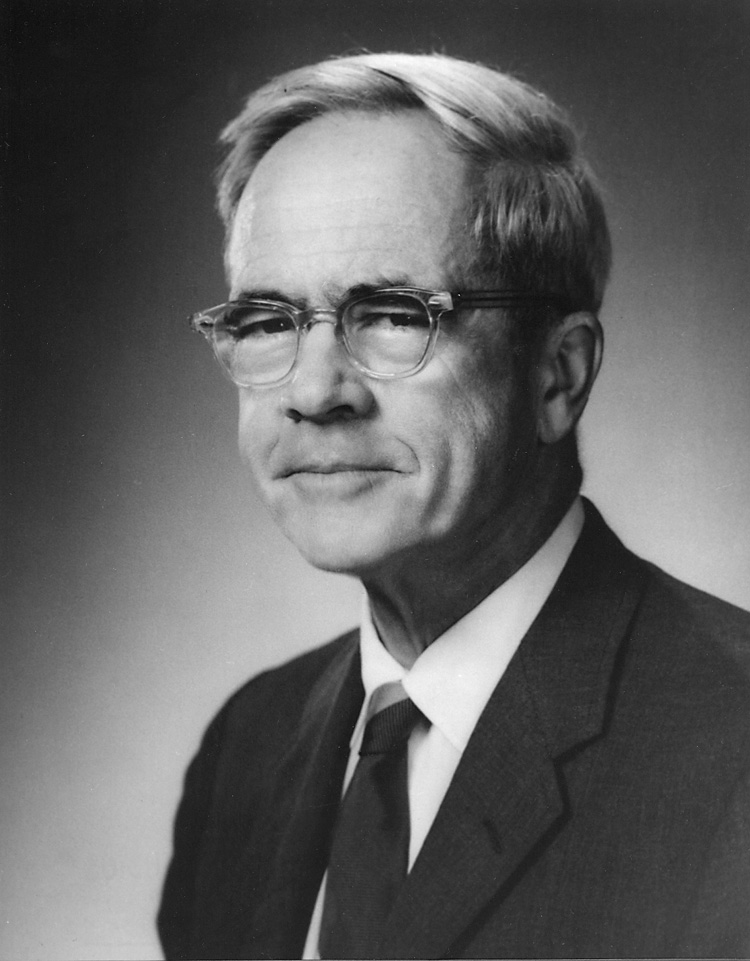 Born in Little Falls, Minnesota, Carl Augustus Weyerhaeuser graduated from Hotchkiss University in 1919 and Harvard University in 1923 with a BFA degree. A grandson of Frederick Weyerhaeuser (1834-1914), founder of the Weyerhaeuser Timber Company, he worked in various family businesses throughout his life.
Mr. Weyerhaeuser was active in many areas of art and literature. Amidst his activities he founded and served as Chairman of the Board of Trustees for the Art Complex Museum in Duxbury, Massachusetts. The museum, called a "monument to wood," was built to celebrate trees. Bearing his deep connection to family roots, the Art Museum included a passion for the beauty and simplicity of what could be done with wood. He created the Carl A. Weyerhaeuser Curator of Prints and Design at Harvard University's Fogg Art Museum, and was a founding member of the Hancock Shaker Village, where he served for twenty-five years as a trustee.
Carl Weyerhaeuser was a generous donor to the Forest History Society along with many other members of the Weyerhaeuser family, most notably Frederick K. Weyerhaeuser and Lynn Weyerhaeuser Day. The leadership and unbiased financial support provided by the Weyerhaeusers has allowed the Society to develop into the unparalleled academic institution it is today.
At the time of his death, Mr. Weyerhaeuser was survived by sons Charles A. Weyerhaeuser, Henry G. Weyerhaeuser, and Robert M. Weyerhaeuser; daughter Carrie Ann Weyerhaeuser Farmer; sister Sarah Maud Sivertsen; and three grandchildren.
The Lasting Legacy of Carl Weyerhaeuser
Thanks to the early contributions and support of Carl Weyerhaeuser, the FHS Library's research resources have grown to include over 9,000 published volumes on forest, conservation, and environmental history, as well as numerous important serial and pamphlet collections that will be available to researchers for many generations. In recognition of his philanthropy and meritorious service to the Society, the FHS Board elected Carl Weyerhaeuser a Fellow of the Society in 1977 and named our library program in his honor in the early 1980s. From our heart, we thank Carl Weyerhaeuser for his passion and support that remains an example in preserving the beauty, literature, and history of forestry and conservation.
Sources
"Carl A. Weyerhaeuser Library Program Established." The Cruiser [FHS Newsletter] 4:1 (March 1981): [3].
"In Memoriam: Carl Augustus Weyerhaeuser (1901-1996)." Forest History Today (Fall 1999): 52.