Centennial Forester Collection
In October 1946 the Society of American Foresters (SAF) and the American Forestry Association began assembling a Pinchot Collection, comprised of photographs and biographical sketches of foresters and conservationists, to be housed at the Library of Congress in Washington, D.C. The project grew to include 1,000 entries by 1950, when submissions began tapering off. In the year 2000 the Forest History Society started amassing its own Centennial Forester Collection modeled after the Pinchot Collection to capture biographies and portraits of individuals whose natural resource careers developed after the early twentieth century.
The Original Pinchot Collection Project
Named in honor of Gifford Pinchot (1865-1946), the first chief of the U.S. Forest Service and a strong supporter of the project prior to his death in 1946, the aims of the Pinchot Collection were: (1) "to preserve in a safe place the records and pictures of the men who have participated in forestry and conservation history in America and abroad"; and (2) "to have readily accessible, in a central place, biographical material which may be used as editorial background whenever it is required" (Journal of Forestry, June 1945, p. 466). Although all foresters and conservationists of any rank were eligible to be included in the program, a higher priority was placed on gathering materials from foresters at the national forest supervisor rank or above, chief foresters of companies, forestry professors, and persons holding leadership positions with the SAF.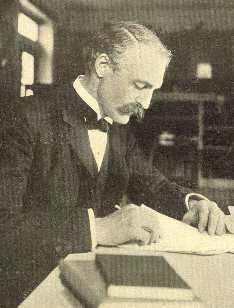 The FHS Centennial Forester Collection Project
The Forest History Society began compiling the Centennial Forester Collection at the November 2000 annual meeting of the Society of American Foresters in Washington, D.C. Since that time the Missouri SAF has added additional photos of many of their members. SAF is urging its members and other foresters whose careers have developed during the mid- to late twentieth century to contribute biographies and portraits for the Forest History Society's Centennial Forester Collection. It is not too late to contribute your information. Just remember that a completed biographical data form must accompany every photo entering the collection. A full vita may be appended to the form if desired. The data forms may be obtained here:
Please help the Forest History Society and the Society of American Foresters in this effort to gather and preserve important historical information documenting the forestry profession and its related occupations by participating in this project. If you have any questions, please e-mail FHS president Steven Anderson or contact the Forest History Society via telephone at (919) 682-9319 or via mail at 2925 Academy Road, Durham, NC 27705.
This project was supported by a grant from the Eastman Kodak Charitable Trust.