FHS Publications with Canadian Content
The Forest History Society's (FHS) Publications program has published numerous articles and books relating to the history of human interaction with the Canadian forested environment. This page provides a ready reference to these sources.
Books with Canadian Content Published by FHS
Murphy, Peter J., et al. A Hard Road to Travel: Lands, Forests and People in the Upper Athabasca Region. Durham, NC and Hinton, Alberta: Forest History Society and Foothills Model Forest, 2007. xiv + 306 pp. Illustrations, maps, bibliography, index. History of forests, forestry, and human interaction with the landscape in the Upper Athabasca Region of Canada, covering three broadly defined eras: the approximately 10,000 years before the arrival of Europeans, during which various peoples passed through the landscape; the period of European influence and fur trading from 1810 until the building of the Grand Trunk Railway; and the era of increased settlement, forest management, and industry after the Railway was in place. Explores the struggle to balance resource use and conservation.
Drushka, Ken. Canada's Forests: A History. Forest History Society Issues Series. Montreal, Quebec: McGill-Queen's University Press for the Forest History Society, 2003. viii + 97 pp. Illustrations, maps, further reading, index. Overview of Canadian forest history focusing on the conservation, management, and use of forests since the eighteenth century. Includes discussion of industrial forestry and sustainable forestry.
Roach, Thomas R. Newsprint: Canadian Supply and American Demand. Forest History Society Issues Series. Durham, N.C.: Forest History Society, 1994. vii + 56 pp. Figures, tables, suggested reading. Canadian newsprint industry, nineteenth and twentieth centuries.
Steen, Harold K., ed. Origins of the National Forests: A Centennial Symposium. Foreword by Robert L. Hendricks. Durham, N.C.: Forest History Society, 1992. x+ 334 pp. Tables, notes, list of contributors. Proceedings of the symposium "One Hundred Years of National Forests: National Forest History and Interpretation," held at MissouIa, Montana, June 20-22, 1991. Contains chapter: "Canadian Federal Forest I Reserves, 1883-1933: A Parallel Experiment" by Peter Gillis.
Steen, Harold K., and Richard P. Tucker, eds. Changing Tropical Forests: Historical Perspectives on Today's Challenges in Central and South America. Durham, N.C.: Forest History Society, 1992. viii + 303 pp. Contains contributions from Elizabeth Graham of York University, Herman Konrad of Calgary University, Patricia Marchak of the University of British Columbia, and Elinor Melville of York University.
Gillis, R. Peter, and Thomas R. Roach. Lost Initiatives: Canada's Forest Industries, Forest Policy, and Forest Conservation. Contributions in Economics and Economic History 69. New York: Greenwood Press, 1986. xiii + 328 pp. Map, notes, bibliographical essay, index. The history of Canadian forest and conservation policies from 1800 to the 1960s.
Rodgers, Andrew Denny, III. Bernhard Eduard Fernow: A Story of North American Forestry. Foreword by R. Max Peterson. Durham, N.C.: Forest History Society, 1991. xii + 623 pp. Footnotes, index. Reprint of the 1951 original. Fernow (1851-1923) headed the Division of Forestry, 1886-1898, and was a forestry educator at the New York State College of Forestry, Pennsylvania State College, and the University of Toronto.
Salinger, Marion C., ed. Prismatic Aspects of U.S. and Canadian Forest Products Industries: Past, Present, and Future. Durham, N.C.: Duke University Center for International Studies, 1988. 36 pp. Papers discussing various aspects of the timber industries and timber trade in the United States and Canada since the nineteenth century.
Articles on Canadian Topics Published in Environmental History and Its Predecessor Journals
FHS has published over 50 articles about Canada in its various journals over the years:
Environmental History (published 1996-present)
Forest & Conservation History (published 1990-1995)
Journal of Forest History (published 1975-1989)
Forest History (published 1959-1974)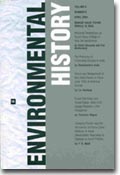 Articles on Canadian Topics Published in Forest History Today Magazine
The Society's Forest History Today magazine includes articles of popular interest as well as information describing the continuing work of the FHS staff. Some of the articles published in the magazine may be of interest to persons studying Canadian environmental history.
Forest History Today (1995-present)