Forest History Today Magazine
Spring 2017 – National Parks Centennial Issue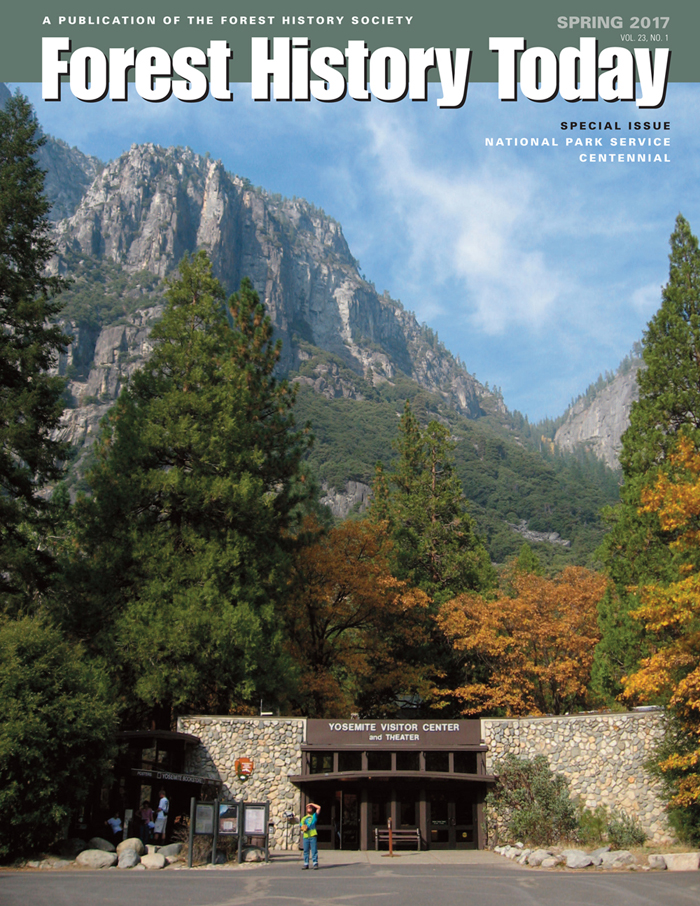 View the table of contents for the Spring 2017 issue below. (view cover image)
The Spring 2017 issue was published in recognition of the National Park Service's centennial. Feature articles include a study of a tiny fish in the middle of the Nevada desert; the establishment of the national seashores; the 1970 riot in Yosemite National Park; sustainable agriculture and woodlot management in Cuyahoga Valley National Park; and the establishment of a new national monument in Maine. Additional articles offer reflections on the origin stories of the national park system, and the Leopold Report's impact on wildland fire policy.
Linked articles are accessible in PDF format (requires Acrobat Reader). Click here to download the entire issue.
Contents
[i]
"Message from the President: In Recognition of the Centennial of Our National Parks" [PDF]
2
"Editor's Note" by James G. Lewis [PDF]
Features
3
"Beyond the Campfire: A Founding Narrative for a Twenty-First Century National Park System" by Rolf Diamant [PDF]
12
"Vignettes of Primitive America: The Leopold Report and Fire Policy" by Stephen J. Pyne [PDF]
19
"The National Park Service Goes to the Beach" by Jackie M. M. Gonzales [PDF]
28
"The Stoneman Meadow Riots and Law Enforcement in Yosemite National Park" by Michael Childers [PDF]
35
"The 'National Playground Service' and the Devils Hole Pupfish" by Kevin C. Brown [PDF]
41
"Forests and Fields: Reconsidering the Rural Landscape in Cuyahoga Valley National Park" by William M. Hunter [PDF]
50
"The Maine Chance: Private-Public Partnership and the Katahdin Woods and Waters National Monument" by Char Miller [PDF]
57
"The Trouble with Climate Change and National Parks" by Mark Carey [PDF]
Departments
68
"Biographical Portrait: Frederick Law Olmsted Sr. (1822-1903) & Frederick Law Olmsted Jr. (1870-1957)" by Alfred Runte [PDF]
71
"History on the Road: A National Park System Road Trip" by James G. Lewis [PDF]
64
Books of Interest by James G. Lewis and Eben Lehman [PDF]
82
Back Cover [PDF]
Have a question or need assistance? Please call us at 919-682-9319.