2021 Lecture
"Giving Character to the Landscape": An Environmental History of the American Chestnut
by Donald E. Davis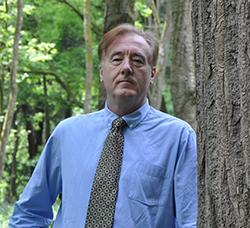 Dr. Donald E. Davis delivered the 2021 Lynn W. Day Distinguished Lectureship in Forest History. His talk, "'Giving Character to the Landscape:' An Environmental History of the American Chestnut," offered a fresh look at the iconic North American tree species.
Before 1910, the American chestnut was one of the most common trees in the eastern United States. Historical evidence suggests the natural distribution of the American chestnut extended across more than 400,000 square miles of territory, an area stretching from eastern Maine to southeast Louisiana. Some of the tree's history dates to the very founding of our country, making the story of the American chestnut an integral part of American environmental and cultural history down to today. Ironically, the tree that most piqued the emotions of nineteenth- and early twentieth-century Americans has virtually disappeared after a blight fungus was introduced during the late nineteenth century, which rendered the tree "functionally extinct." Although its eradication caused one of the greatest ecological catastrophes since the last ice age, considerable folklore and sentiment about the American chestnut remains. Over the last several decades, considerable effort has been expended to try to restore this iconic species to the forest, though not without controversy. Dr. Davis will explore all this and more in his talk.
Donald E. Davis is an independent scholar and the author of The American Chestnut: An Environmental History, published by the University of Georgia Press in November 2021. He has authored or edited seven books, including the award-winning Where There Are Mountains: An Environmental History of the Southern Appalachians (University of Georgia Press, 2000, 2020). Davis was a founding member of the Georgia Chapter of the American Chestnut Foundation and works for the Harvard Forest as a part-time research scholar.