2009 Lecture
"The Meaning of Wilderness and the Rights of Nature"
by Dr. Roderick F. Nash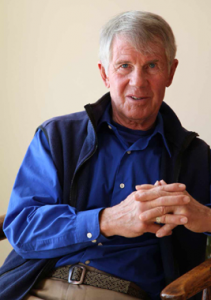 The 2009 Lynn W. Day Distinguished Lectureship in Forest and Conservation History welcomed Dr. Roderick Nash, Professor Emeritus of History and the Environmental Studies Program at the University of California, Santa Barbara. The lecture was held November 10th at 4:30 p.m. in Love Auditorium, the Levine Science Research Center, on Duke University's West Campus.
Author of eight books, including the classic Wilderness and the American Mind (1967), Nash is considered America's foremost wilderness historian. In this lecture he explores the historical meaning of wilderness in the U.S. and beyond, and what the role of wilderness is in an urbanized landscape.  He envisions how wilderness may help society react to global climate, ecological fragmentation, and other issues, suggesting "island civilizations" as one possible technological approach to occupying our planet that centers on re-wilding and reforestation.