An Educator's Legacy – Michelle Steen-Adams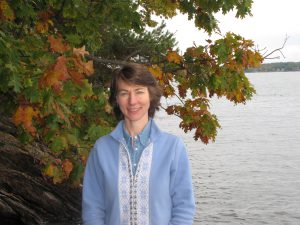 Michelle Steen-Adams is an affiliate social scientist at the Pacific Northwest Research Station of the USDA Forest Service, where she conducts applied research on fire-prone forests to inform wildland fire policy and management. Her research spans the fields of forest social sciences, environmental history, tribal forestry, and forest landscape ecology. Michelle taught courses in forest landscape ecology and environmental history when she was an associate professor of environmental studies at the University of New England.
Michelle earned a BA from Swarthmore College, an MS in Environmental Studies, and a PhD in Forest Ecology and Management from the University of Wisconsin-Madison. She is also a Returned Peace Corps Volunteer, having served in Mali from 1994 to 1996. As the author and co-author of many scientific publications on forest social-ecological systems, her work contributes a historical perspective to forest policy and management issues, such as wildfire. Michelle's research approach is historical-geographical: her studies examine cultural, policy, and forest ecological patterns across ownerships over broad spans of time.
Michelle encouraged her family to join her in supporting the Building on History campaign, and the George & Emma Steen Family made a significant commitment in honor of Harold K. "Pete" Steen, whose 28-year career with the Forest History Society included leading the organization as executive director from 1978 to 1997. Michelle is a 15-year member of the Society, and she is currently serving her second three-year term on the FHS Board of Directors, for which she is Chair of Awards Committee and a member of the Environmental History Journal Committee.
What inspired you and your family to make your gift?
Important goals to our family include building public awareness of society's interdependence with forested environments, communicating diverse forest histories, and preserving the voices of past forest community members, as well as forests themselves, through archival materials. Since its establishment in 1946, the Forest History Society has brought together people and resources to realize these goals. As an organization, the FHS community stands out for its diverse professional and personal connections to forests, including foresters, forest scientists, historians, and forest enthusiasts, and for shared commitment to forestry education and scholarship. FHS has also developed one of the world's foremost centers for archiving and distributing historically-significant forestry photographs, letters, reports, and interviews. We were inspired to contribute to the new building initiative to strengthen the foundation to build on these accomplishments in the future.
What advice do you have for students of environmental history?
Developing capacity as an environmental historian is a way of thinking and posing questions, a type of craft, and a community membership that develops over many decades. As a way of thinking, students may find it useful to maintain focus on specific people, rather than abstracted groups, to gain insight into how human agency has influenced broader social and environmental developments. In terms of developing one's craft, a valuable habit is to make time to read diverse environmental history genres; read with focus on techniques to communicate broader historical meaning from the story particulars. Regarding community membership, steward your community connections. Participate in conferences, including American Society for Environmental History (ASEH). And, cultivate a rapport with archivists, an essential component of the environmental history community.
When students find themselves deep in the process of archival research, conducting oral history interviews, sketching the storyline, and writing, it may also be helpful to step back to consider your project's purpose as a work of history. Readers of environmental history look to our field to gain a variety of insights: historical perspective to understand the present; more informed understanding of current options in light of the past; historical significance of past peoples, places, and events; appreciation for past peoples and their experiences. Keeping in mind your purpose can help you to successfully advance your project toward completion. Present your findings to diverse audiences, solicit feedback, and keep the conversation going!