Forest History Today Magazine
Spring/Fall 2019 Issue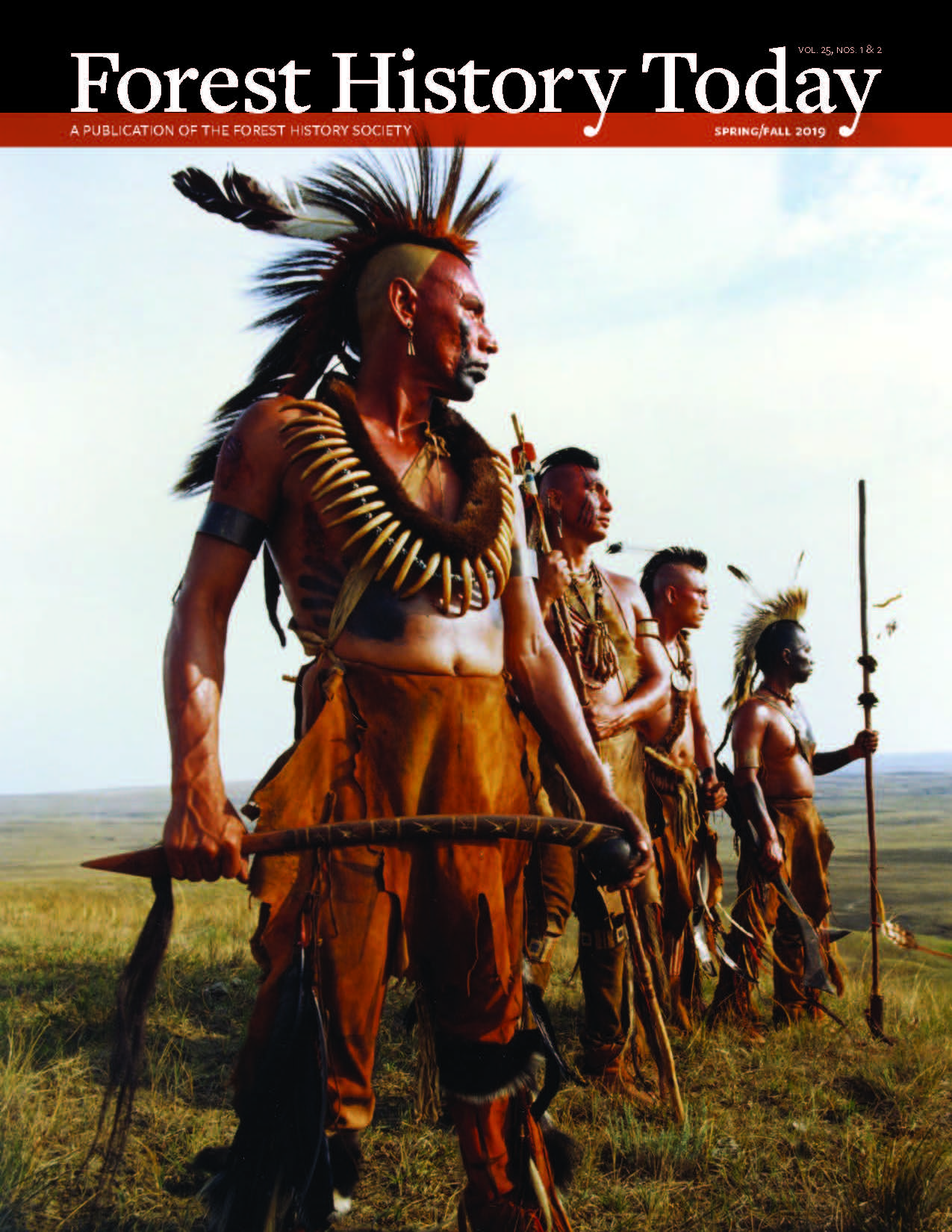 View the table of contents for the Spring/Fall 2019 issue below. (view cover image)
Feature articles in the Spring/Fall 2019 issue include a discussion of how a law aimed at easing urban housing shortages unintentionally transformed ski resorts, a brief history of the Wilderness Management Research Unit, and a review essay on the changes to the timber and forest products industries in Nova Scotia. Other articles look at movies about Native Americans filmed on national forests and grasslands, an assessment of the National Environmental Policy Act on the 50th anniversary of its passage, and the story of a conscientious objector's wartime experience working on a national forest during World War II. Lastly, you can learn what it's like to attend a small-town festival that celebrates its turpentine history and read about early forest researcher Thorton Munger.
The entire issue is available in PDF format here. To receive a print copy of the magazine, become a supporter of the Forest History Society today!
Linked articles are accessible in PDF format (requires Acrobat Reader).
Contents
[i]
"Message from the President: The First Year—Growing Pains" by Steven Anderson [PDF]
2
"Editor's Note" by James G. Lewis [PDF]
3
Masthead [PDF]
Features
4
"Remaking Sun Valley: Condominiums and Sprawl in the Mountains of the West" by Michael Childers [PDF]
16
"They Left a Trace: A History of the Wilderness Management Research Unit" by David N. Cole [PDF]
26
"Forest Pasts and Forest Futures: Lessons from Nova Scotia" by L. Anders Sandberg and Peter Clancy [PDF]
34
"Celluloid Heroes: Native American Movies Filmed on U.S. Forest Service Land" by Angela Aleiss [PDF]
38
"NEPA at 50: The National Environmental Policy Act, Environmental Protection, and the Process Predicament" by James R. Skillen [PDF]
46
"Doing Valuable Work: A Conscientious Objector's Wartime Service on the Manistee National Forest" by Jean Mansavage [PDF]
Columns
56
"Portrait: Thorton Taft Munger (1883–1975)" by World Forestry Center [PDF]
61
"Places: The Catface Country Turpentine Festival," by Thomas J. Straka, photos by Patricia Straka [PDF]
65
"Media" by Eben Lehman and James G. Lewis [PDF]
Society News
73
Contributors and Sponsors [PDF]
75
Honor Roll of Members of 25-plus Years [PDF]
75
Welcome New FHS Members! [PDF]
76
Gifts to the Forest History Society Library [PDF]
77
Awards and Fellowships [PDF]
80
Publications of the Forest History Society [PDF]
81
Officers and Staff of the Forest History Society [PDF]
Back Cover [PDF]