The Duke Forest at 75: A Resource for All Seasons
By Charles E. Twining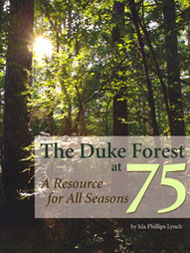 Beginning in the mid-1920s, Duke University purchased many small farms and interspersed forestland as a buffer and expansion land for the new campus. These tracts, totaling 4,696 acres, became the Duke Forest in 1931 when they were placed under the stewardship of Dr. Clarence Korstian, the first director of the Duke Forest and dean of the School of Forestry.
Through the following years, largely through the efforts of Dr. Korstian, some of the income derived from the sale of forest products was used to purchase additional land. Today the Duke Forest covers over 7,000 acres of land in six divisions.
Early objectives of the Duke Forest were designed to complement the School of Forestry's mission to advance graduate forestry education in the Southeast United States. The Duke Forest objectives were: to demonstrate practical and economical techniques for managing timber; to develop an experimental forest for research in the sciences associated with growing timber; and to provide an outdoor laboratory for students of forestry. Over the years, academic uses of the Duke Forest have broadened beyond the original forestry objectives to encompass a variety of disciplines in the natural and environmental sciences. Now the Duke Forest is nationally recognized as a premier facility for outdoor education and environmental science research.
Ida Lynch is an independent scholar who has resided in the Triangle area of North Carolina most of her life and who knows its grenn spaces well. In addition to the Duke Forest book she has written North Carolina Afield: A Guide to Nature Conservancy Projects in North Carolina as well as articles for Wildlife in North Carolina magazine.
$21.95 plus $4.00 shipping
University of Washington Press, 1994. Hardcover.