2011 Lecture
"Policymaking Under Conditions of Uncertainty: The Weeks Act and the Eastern National Forests"
by Dr. Robert G. Healy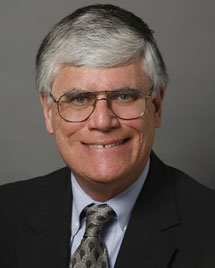 The 2011 Lynn W. Day Distinguished Lectureship welcomed Dr. Robert Healy, Professor of Environmental Studies at the Nicholas School of the Environment and co-author of The Lands Nobody Wanted: Policy for National Forests in the Eastern United States.
The Weeks Act, passed 100 years ago in 1911, marked a monumental change in the attitude of the federal government toward owning land and in the benefits that society should expect from federally owned forests.  It provided the legal basis and the financial means through which the Forest Service has acquired more than 20 million acres of land in the northeast, lake states, and southern U.S., now managed as 50 national forests. The bulk of the land, worn out farms and cut-over mountains, was acquired during the Depression at prices that averaged only $3.72 per acre—truly "lands nobody wanted." The current value of this land for recreational, scenic, wildlife and ecological purposes is immense. The framers of the Weeks Act clearly made a wise policy decision.
However, the original premise of the Weeks Act—"regulating" water runoff, was scientifically flawed. And there were dozens of important, yet wholly unforeseeable events, from the discovery of how to make Kraft paper from southern pine to the rise of modern environmentalism to climate change, that proved critical to the value of the Weeks Act forests. Through telling the story of how the Weeks Act has proved to be a good policy choice, this lecture explores broader questions of policymaking under conditions of uncertainty, the value of basing decisions on forecasts and projections, and the role of government in long-term resource management.